My Life Is Based on a True Story
Aratere Berthed at Te Papa
Why do people is ship's mutinies always ask for "better treatment"?
I'd ask for a pinball machine, because with all that rocking back and forth you'd probably be able to get a lot of free games.
- Deep Thoughts by Jack Handey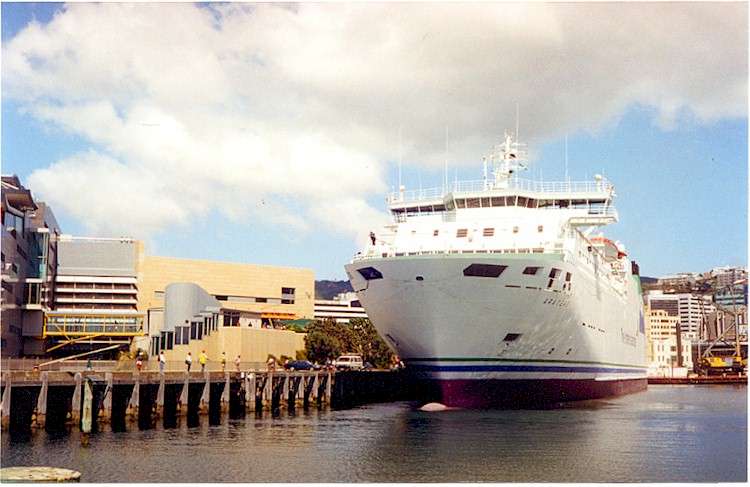 The Cook Strait ferry Aratere berthed, for a while, at Te Papa
Source: A photo my son Wolf took off the back deck of our boat, Lady Fair. For a while, tours were conducted of the new ferry. Several times, people waved to us from the bow. I was out when they moved the Aratere in to that small space, or I might have been a bit worried...

Aratere Leaving Te Papa
Life would be so much easier if we could just look at the source code.
- Weird Wellington Happenings and Links
yourname.co.nz/wwebz/taglines.html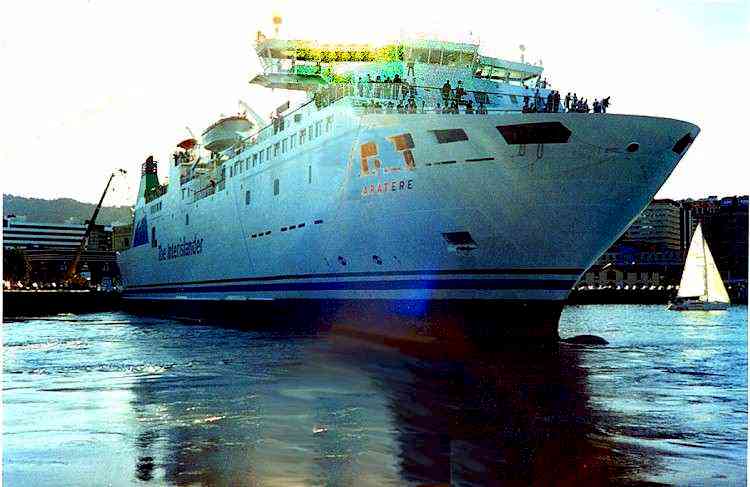 Source: This photo was taken off the back deck of our boat, Lady Fair, while we were tied up at Pier D. (Before my son Wolf ran to get the camera, the ferry Aratere was much closer - the bow had swung almost over my head.) Later, one of the people on the deck telephoned me and so did a reporter. Both had wondered if the ferry was going to hit us and did we ever wonder the same thing while looking up at it?
I said no. But, actually, the thought HAD crossed my mind because we had a similar experience once.
From my journal for Sunday 14 November 1993:
We had some REAL excitement today! Cody and Wolf and I were all belowdecks talking when W-H-U-M-P-!-!-! Something MAJOR struck the boat. We all went scrambling onto the deck and there was the Marthalina - 125 ft? - solid steel, dented, and only a few feet away, with her stern to our port side at a 90o angle. "She hit us!" I screamed. [My husband] Jeff was standing in the prow, seemingly undisturbed. "Yeah," he answered, "but it wasn't too bad."

Seeing as how we didn't even have insurance, I would've thought he'd be a little bit more emotionally involved than he seemed to be.

When we saw the Marthalina depart yesterday, we had both concluded that her captain was one of the most skilled we'd ever seen. He turned the boat completely around in an impossibly small spot in the midst of a lot of small craft without damaging any of them. When she arrived back in port today, some other ship had taken that spot, so the captain was turning the boat around to park it in front of us. His bow had hit one of our anchors and drug along it but there was apparently no damage done, though serious damage was only narrowly averted. A crowd appeared out of nowhere, everyone anxiously watching this boat manoeuvre only a few feet away from us - but no further contact occurred, though it got a little scary once or twice.

Later, the bo'sun came over to find out the extent of the damage. He couldn't believe there was none.
(If you didn't see the first picture in this series, please press the "Back" button below. Well, that is, if you want to...)

But maybe I should've been worried?
Oil Spill after Interislander Ferry Crashes into Fishing Boat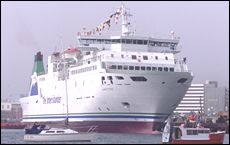 Cook Straight ferry the Aratere at Wellington Harbour.
File picture/NZ Herald
An Interisland ferry smashed into a fishing vessel during last night's storm, shattering its hull and causing 31,000 litres of diesel to pour into Wellington Harbour. The Aratere ferry collided with the San Domenico about 9pm, while trying to berth in strong winds. Wellington regional harbourmaster Captain Mike Pryce said the collision smashed a hole in the vessel's starboard side and several holes opened on its portside as it was pushed into the wharf. "Basically she's a double-hulled ship, it (the ferry) has crushed the outer hull and she's floating on the inner hull," he said. "She's like an eggshell with cracks all over the place."
Firefighters pumped water from the vessel overnight but were not needed today as San Domenico's own pumps were coping. Divers last night temporarily plugged the more serious gashes and holes, Mr Pryce said. The divers returned today to the San Domenico, berthed on Aotea Quay, to video damage to the 35-metre-long, Napier-registered, 98 tonne vessel for insurance purposes. "Obviously it will be up to the insurance assessors but my feeling is it will probably constitute a total loss."
The spilled 31,000 litres of diesel would dissipate over the next few days. "This will float around for a few days and be quietly evaporating with the wind and weather conditions. It's going to stink down there for a while."
Mr Pryce said the San Domenico was berthed when it was hit. "Clearly it was the ferry's fault... but we don't know why it happened, whether it was the master's error or whether it was a mechanical problem." The Maritime Safety Authority and Transport Accident Investigation Commission were investigating. Mr Pryce said last night's storm may not have been a factor in the accident. "It wasn't that bad." He said while within the harbour the winds were gale force, they were storm force outside of it. "The Arahura was operating as well, she had no problems... the weather shouldn't have affected it. They've berthed in far worse weather conditions."
Mr Pryce said he was unsure what would happen to the vessel as there was nowhere in Wellington it could be repaired and it was unlikely the San Domenico could be moved in its badly damaged condition. "It's a bit of a Catch-22 situation." The vessel was made from a type of plastic rather than steel so holes could not be patched as easily. "You can't just weld a patch on it."
A New Zealand crew were on board during the collision. One person received minor injuries to his shoulder when he was thrown ashore by another crew member concerned the boat was going to be crushed. However, the accident could have been serious. "If the ferry had hit farther aft, hit the accommodation, it could have been different." - NZPA
Source: nzherald.co.nz New Zealand Herald 6 July 2003

Wellington Runs "Rings" around San Francisco
Kiwi Capital Seems Oddly Familiar Yet Refreshingly Exotic
by John Finn
[Excerpt]
Eventually I made it down the waterfront to Te Papa, which means "our place" in Maori. Opened in 1998, it is New Zealand's Smithsonian, a high-tech, interactive museum that tells the nation's story from the Mesozoic Era to the present. Fittingly, I was greeted in the entrance hall by a statue - fashioned out of margarine - of one of the most influential figures in recent New Zealand history: the wizard Gandalf. (Apparently, creating margarine works of art is something of a Kiwi tradition.) Up one flight of stairs was a 20-foot-high scale model of Barad-dur, stronghold of the dark lord Sauron. (The two exhibits have since left the museum. I was told they were "on tour.")
Part museum, part Exploratorium, part arcade and part mall, Te Papa is the kind of place you could browse for days without seeing everything. As in our own Smithsonian, its exhibition space - the equivalent of 3 football fields - is crammed with a delightfully bewildering variety of stuff. I wandered past the skeleton of a giant moa, an extinct, ostrich-like bird; a "Whale Rider" children's ride; a cast-iron cannon from Captain Cook's ship, Endeavour; tapa cloth from Tonga; the skeleton of Phar Lap, the Australian racehorse; photos of the Beatles wearing ceremonial Maori medallions; a little wooden house that shook with a simulated earthquake; and a hands-on sheep-shearing display that challenged me to compare 8 different kinds of wool.
The exhibits gained focus as I moved up to the 4th floor, home of displays dedicated to the Maori, New Zealand's original, Polynesian inhabitants. There I found Te Marae - a ceremonial Maori meetinghouse - and a 30-man war canoe.
Most poignant, to me, was a large exhibit about the Treaty of Waitangi, signed in 1840 by a collection of Maori chiefs and representatives of the newly crowned Queen Victoria. The treaty paved the way for the formal annexation of New Zealand by the British Empire, but the exhibit makes clear, through careful, word-by-word translations, that the Maoris signed away far more sovereignty than they intended. The treaty is the source of friction to this day, and the courts are still adjudicating Maori land claims.
Source: sfgate.com

For satellite photos and pictures of Wellington from several different angles and for articles about earthquakes, history, business, the Ohariu Valley, statistics, fireworks, the national anthem, the kiwi icon and more click the "Up" button below to take you to the Table of Contents for this Wellington section.