For the Builder Who Discriminates
Order the Home of Your Dreams
I would sooner read a timetable or a catalog than nothing at all.
- William Somerset Maugham

A man marries to have a home, but also because he doesn't want to be bothered with sex and all that sort of thing.
- William Somerset Maugham (again)

Oops. You're 86 Years too Late...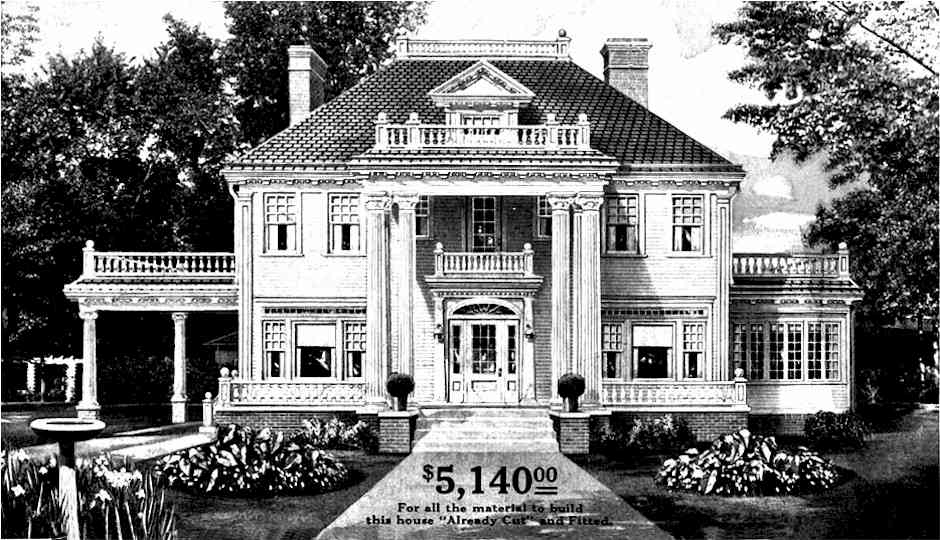 "Honor Bilt" Number 2089 "Already Cut" and Fitted
At the above price we will furnish all the material to build this 10-room house, including mill work, lumber, lath, shingles, porch ceiling, siding, flooring, finishing lumber, building paper, eaves trough, down spout, sash weights, hardware, nails, eaves, cases, colonnade, roofing, painting material, mantel, tile and grate. We guarantee enough of the above material to build this house. Price does not include cement, brick or plaster.
From the days of George Washington to the present time, the Colonial type of residence has always been popular. It has housed the greatest figures in American history, science and literature. Many will recognise a close resemblance in the illustration above to the famous residence at Cambridge, Massachusetts where the poet Longfellow composed his immortal works. Leading architectural authorities declare that this type will continue to win favour for hundreds of years. There can be no question of its imposing appearance, graceful lines and other attractive features. This is a house for the discriminating builder who is willing to invest a fair amount for the largest return in comfort, convenience and extra high quality.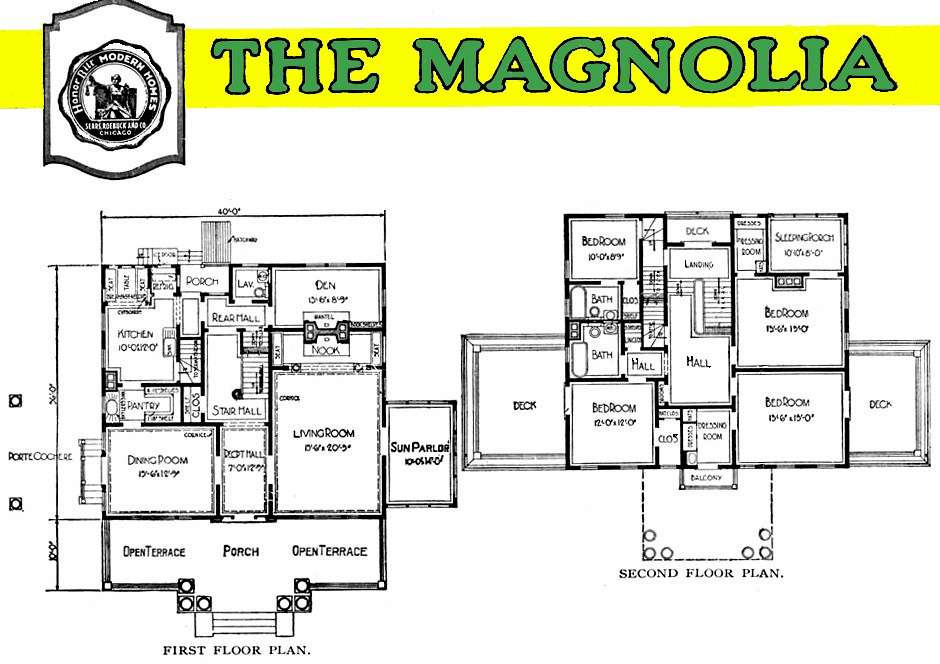 First Floor
A Colonial front door opens from the porch into the reception hall, which has French doors leading to the living room and the solarium or sun parlour. A massive but graceful stairway leads from the hall to the second floor. There is a rear hall back of the stairway, with doors leading to the kitchen, the den and the rear porch. The kitchen has a nicely-arranged breakfast alcove lighted by three fancy windows. A china case over each seat in the alcove. Rooms are 9 feet 6 inches floor to ceiling.
Second Floor
There are 4 bedrooms with closets, 2 bathrooms and a sleeping porch on this floor. One of the front bedrooms and one of the rear bedrooms have dressing rooms, with extra compartments for dresses and hats. Other conveniences are shelves in the closets, a special broom closet and a stairway to the attic. Note that the servants' quarters are completely separate and have a stairway from the kitchen. Rooms are 9 feet from floor to ceiling.
Basement
An excavated basement under the entire house, 7 feet from floor to joists, lighted with basement sash.

We furnish oak flooring, oak doors and birch trim for the reception hall, living room, dining room and sun parlour. Yellow pine flooring, doors and trim for the rest of the first floor. With the exception of the French doors for the living room and sun parlour, all other inside doors are the latest 2-panel design. For the second floor we furnish yellow pine flooring and trim with 5-cross panel solid white pine doors.
A pair of French doors lead from the stair landing to the deck and a French door from dressing room to front of balcony.
Painted two coats outside, your choice of colour. Varnish and wood filler for interior finish.
Built on a concrete and brick foundation, frame construction, number 1 yellow pine framing and dimension lumber.
Our Guarantee Protects You - Order Your House from This Book
Price Includes Plans and Specifications © 1918 by Sears Roebuck & Company
Source: searsarchives.com

No sharing stairs with the servants! No sharing a bathroom, either - even though it means the servant has a bath and the inhabitants of each of the other three bedrooms share the other one. (People had bigger bladders back then...)
See also:
| | |
| --- | --- |
| | What Was Life Like a Century Ago? (in the section on Wellington) - The average life expectancy in the US was 47. Only 14% of US homes had a bathtub... |
| | An Extraordinary World's Fair (in the Information and Technology section) - Computers and copiers in our offices, microwave ovens in our kitchens, TVs in our living rooms, high-speed jets for travelling - every one of those technologies appeared in 1939... |
| | Computers of a Bygone Era (also in the Information and Technology section) - for photos of computers in the 50s and for one prescient electrical engineer's 's prediction of computers today. |
| | 1962 Imagines 2001 (also in the Information and Technology section) - Back in 1962 - the year Seattle played host to the World's Fair - humans were clearly primitive creatures who knew nothing of the wonders of the Internet or, for that matter, the wonders of the Post-It note (which wasn't invented until 1974)... |
| | What Was Life Like in the 1500s? (in the section on Photographs, at the bottom of the page) - "Most people got married in June because they took their yearly bath in May and still smelled pretty good..." |

This Might Be the Home of Your Dreams If You Were Freezing to Death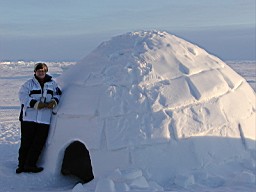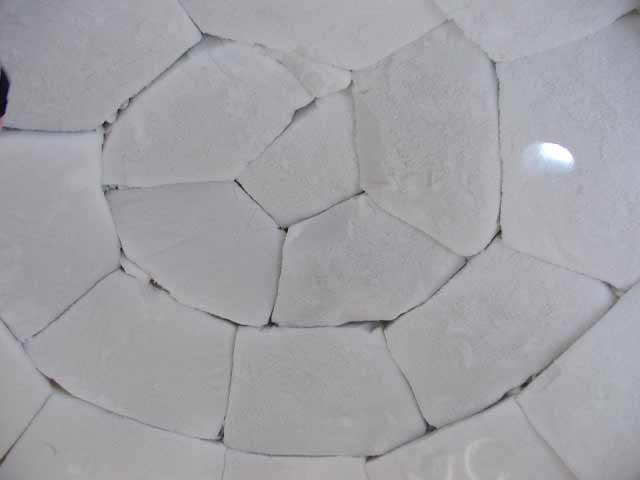 A pretty cool house. Note the spiral construction...
Source: arcticcircle.ca Tricia and Vince's Baffin Trip 2002 Grise Fiord, Nunavut 12 - 27 March 2002

Or Burning...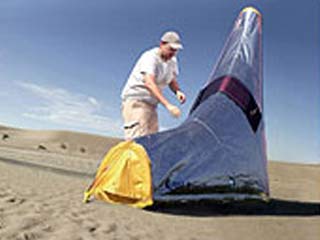 Space Concepts Improve Life in the Desert
An innovative tent, developed with the use of space concepts, is now on display at the 'SAFE: Design On Risk' exhibition at The Museum of Modern Art in New York. Designed for desert use, it exploits the inhospitable environment to improve life in the desert. Called Desert Seal, the tent is a prototype for a one-person inflatable tent for use in desert conditions. It is light, easy to transport and simple to set-up. Best of all, it takes advantage of the extreme desert temperatures to make travelling in the desert more comfortable.
"Desert Seal is the result of a study on the use of inflatable technologies in hot and extreme environments carried out for ESA's Technology Transfer Programme. We looked at different solutions and tent sizes," says Andreas Vogler from Switzerland, who together with Arturo Vittori from Italy created Desert Seal. "Rather than using specific space technologies, Desert Seal is derived from the methodology and principles used in space design and development. To design habitation for humans on Mars, completely autonomous solutions must be found. How can a construction be extremely light and easy to transport? How can the surrounding environment be controlled?" The architects Vogler and Vittori started by analysing a hot desert environment and working out how these conditions could be used to create living quarters that are cool during the day yet protect against the cool desert nights. "Designing habitats for space makes architects think about how they could also be used on Earth. Desert Seal is based on a research-driven design methodology, which investigates available in-situ resources and optimises designs to ensure they are light and have the minimum of energy requirements," emphasises Vogler.
In 2003, Vittori and Vogler set up Architecture and Vision, a design company based in Munich and London that focuses on product design and extreme environment architecture. Both have a background in aerospace architecture design and this can be seen in the conception and construction of the project. Vittori worked as an architect at Airbus in Toulouse and Vogler has carried out research in space architecture for the International Space Station and the Human Mars Mission at the University of Technology in Munich. They designed Desert Seal specifically for hot arid environments where the air becomes considerably cooler the more distant it is from the Earth's surface. During the day, the temperature can easily reach 60°C and beyond at ground level, while just 3 metres above it could be 40°C lower. Vittori and Vogler decided to use this characteristic to their advantage. During the day, an electric fan in the top of the tent, 2.26 m above the ground, constantly blows cooler air inside, thus reducing the temperature inside the tent. The fan is powered by batteries charged by a flexible solar panel mounted outside the tent.
During the night, the desert radiates heat off to space and quickly reaches temperature below 0º Celsius. Since air acts as a good insulator, on higher levels it stays considerably warmer. The fan on top now runs on batteries and blows warmer air into the tent, protecting from the chilly desert nights.
The tent consists of an air beam structure made of polyethylene-coated material. It has an awning in silver-coated high-strength textile to reflect the heat and provide protection from direct sunshine. The L-shaped tent allows upright entry and also minimises the aerodynamic load. To make the tent, a number of space-related applications have been "borrowed" from the aerospace industry such as the methods used to make parachutes, emergency inflatable objects and the flexible solar power panels that generate electricity. The Italian company Aero Sekur provided the technology and manufacturing skills to build the prototype. The Flexcell solar panel was developed by VHF-Technologies in Switzerland. Low volume and weight, inflatable construction for easy deployment, active environmental control and heat reflection are also key concepts and technologies transferred from the aerospace industry.
"However, the main spin-off from space used to create Desert Seal is not the use of clever new materials or the use of an elaborated software simulation, but the way a 'space architect' employs a research-based methodology," explains Andreas Vogler. Desert Seal will be on display at The Museum of Modern Art, New York, in the 'SAFE: Design Takes On Risk' exhibition until 2 January 2006. The exhibition features more than 300 contemporary design objects and prototypes from all over the world. These range from protecting body and mind from dangerous or stressful circumstances to designs that provide a sense of comfort and security.
Source: spaceref.com European Space Agency 23 October 2005

Or Wealthy Beyond Belief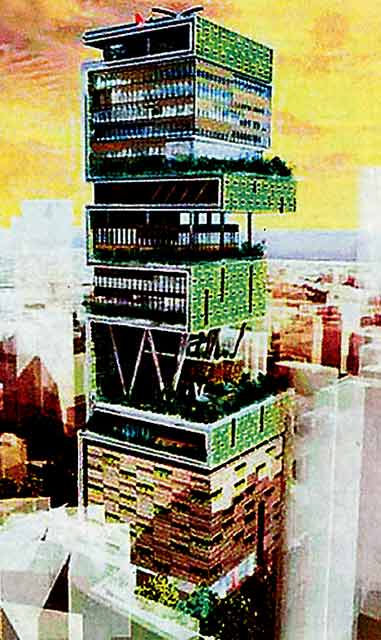 Single-family dwelling
India's Richest Man Builds Tower Block Home
Mukesh Ambani's new home will be the height of a 60-storey building - but will have only 27 storeys because the ceilings are so high. India's richest man is planning a palace in the heart of Mumbai with helipad, a two-storey health club, hanging gardens, a home theatre, a glass-fronted apartment for guests, and 6 floors of car parking. The Guardian reports that building will have a total floor area greater than Versailles. Ambani's wife, mother and 3 children will live in the building, named Antilla after a mythical island, with him, looked after by 600 live-in, full-time staff.
Construction has already started on what will eventually be a 175 metre (570 feet) tower in the financial hub of Mumbai and planners are aiming to complete it in September 2008. The family currently live in a 14-storey building, Sea Wind. Earlier this year, Forbes rated Mr Ambani as the richest resident Indian with a net worth of US$20.1 billion. He came 14th in Forbes' 2007 worldwide rankings. Currently he is chairman of petroleum major Reliance Industries Limited, India's largest private sector company, with interests in oil, retail and biotechnology. The 50-year-old is India's first rupee trillionaire.
The building, already worth £500 million, could start a rush on skyscrapers. But Praful Bidwai, a newspaper columnist, said the divide between rich and poor in India was becoming obscene. "Mr Ambani is building an edifice to his own ego," he said. "It will not go down well with the public and there is a growing tide of anger about such absurd spending."
Sources: ananova.com, dailymail.co.uk 1 June 2007

My biggest problem with this house is that I think it's dated architecturally (ugly, in other words). A more classic, insulated dwelling would earn my respect. But he didn't ask...
I am curious, though. If each family member has the equivalent of a floor and 4 are for special amenities and 6 for parking, subtracting 16 floors from the 27 leaves 11 for the 600 employees, some of which will have families. Assuming an average employee family size of 3, that's 1800 people for 11 floors, or 150-180 per floor (possibly more). Just mentioning this...

For more on the unusual: events, abilities, means of self-expression, houses, conditions, people, luck, narrow escapes, resemblances, facts, diversions, heroism and more - click the "Up" button below to take you to the Index page for this Odds and Oddities section.