People Everywhere
Aerial Photos of Mexico
The helicopter approaches closer than any other vehicle to fulfillment of mankind's ancient dreams
of the flying horse and the magic carpet.
- Igor Sikorsky

These photos were all taken by helicopter pilot Oscar Carlos Ruiz (I may not have his names in the right sequence). He is the pilot of a Bell 407. In addition to being a pilot, he is quite a photographer, with an eye for pattern and composition. If you like these, visit his site (address below) for lots more...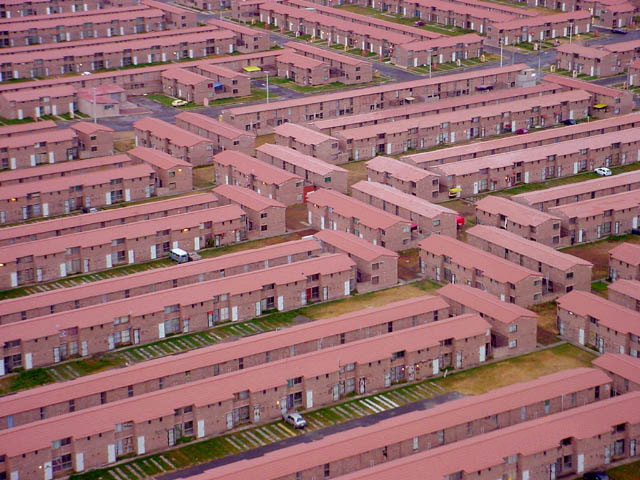 Si te no te importa vivir amontonado .... Casas Geo.
(If you don't mind living in high density projects)
Corporación GEO makes homeowning dreams a go for low- to middle-income families and workers in 33 cities across 19 states in Mexico and also in Chile. A leading affordable housing builder in Mexico, GEO designs, constructs, and sells horizontal planned communities featuring condominiums built in clusters of about 60. Each section has its own security booth, water tower, and recreation areas, and larger communities often include schools and commercial businesses. The company sells about 29,520 Casas GEO units a year. It offers short- or long-term financing plans. Corporación GEO has joined with Prudential Real Estate Investors to acquire land for housing in Mexico. Senior management owns 32% of Corporación GEO.
Source: biz.yahoo.com (text) www.imagenesaereasdemexico.com (photo)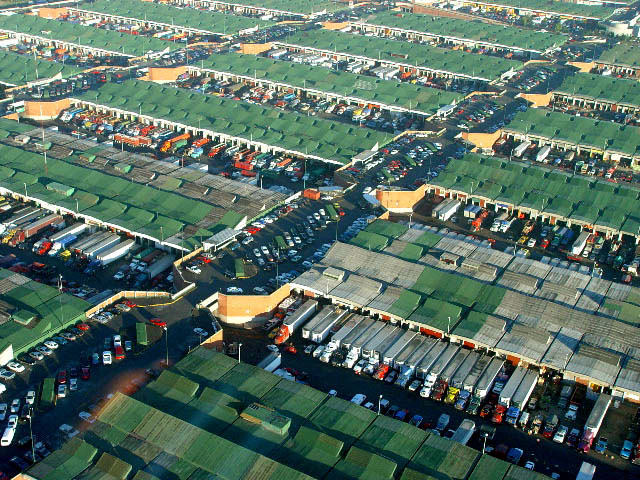 Fotografia Aerea de la Central de Abasto
(Aerial photograph of a central distribution centre) - how is it POSSIBLE for them to get those trucks in there???
As the market to service 80% of the food needs of 20 million Mexico City inhabitants (task enough for any wholesale market), it became heir to the great pre-hispanic "tianguis" (marketplace) of Tlatelolco and is today the largest home for fresh produce sales in both Mexico and Latin America. Pronounced a public service by presidential decree in 1983, Central de Abasto aims to guarantee the food supply to Mexico City, while improving its producer's incomes; determining fair prices; modernising and organising fruit, vegetable and grocery sales; and ensuring the provision of basic fresh produce to low income consumers. Its supply network covers public markets, commercial plazas and malls, supermarkets, street markets, commercial food outlets and small grocery stores.
The Central de Abasto has now begun on a programme of modernisation in order to successfully move into the new millennium. There are many challenges ahead, not the least of these being its sheer size 328 hectares. Including fish and meat, the market moves some 25,000 tonnes per day and is open from 22.00 – 18.00 seven days a week. Logistical problems, such as with transportation, can easily be seen when the market closes for the 4 hour daily cleaning period. There are also many challenges in moving US$15 million daily turnover (95% in cash) both within and outside of the market. The market also operates without any computerised pricing system, and without knowing precise numbers of traders or products.
However, despite these and other challenges, market officials are dedicated to improving communications, infrastructure, information systems and marketing, and are currently working hard on implementing a future vision and accompanying strategy to combat these and other problems. Alongside these modernisation discussions, Central de Abasto also includes the needs of the people it services, for example, there are currently several non-profit volunteer organisations operating within the market, daily canvassing traders for produce able to be boxed and delivered to the poor in society.
Source: wuwm.org (text) imagenesaereasdemexico.com (photo)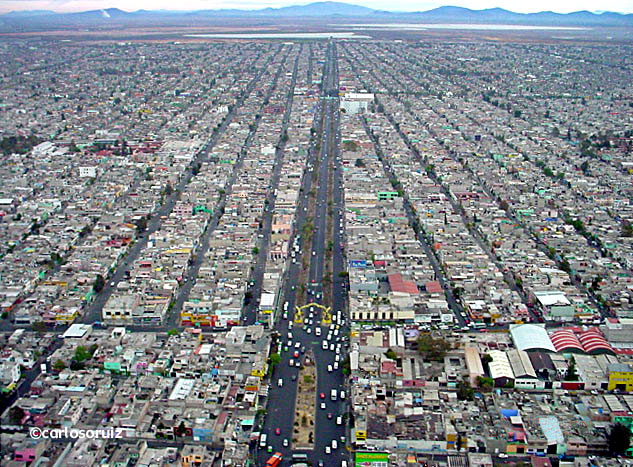 Nezahualcoyotl, SalsaLand, NezaYork, Ciudad del Coyote Hambriento, MinNesota
Nezahualcoyotl is quite interesting. It is build on the ancient shallow lake, Texcoco. In Aztec times there must have been boat traffic, distant pyramids, shallows with reeds and frogs and probably a ton of interesting food stuffs, and probably floating farms patches.
One morning I went with Javier to walk the dogs, and we went out on the tierras comunales, the common lands, out behind the vast dump where we walked last time, which is like a city in itself. First we walked down a long park-like strip in the middle of a wide busy street, then we crossed a busy highway with virtually no pedestrian control, just cross as cross can, and then we were in a vast field, with maybe a hundred or more simple soccer fields, side by side and end to end. Nothing fancy. No nets. No grass. No chalk grids. No bleachers. Metal goal posts. Clear flat dirt. Javier said that Saturday and Sunday they are full of players. Saturday kids, Sunday adults. League play. I tried to picture the field full of soccer players. On this particular morning, a few workers were repairing the drainage off on one side, trying to ensure that field would be playable by the weekend.
We sat awhile until the mosquitoes found us. I wanted to ask Javier more, but he doesn't speak English and my Spanish is bad, so it just seemed easier to sit and think. I looked west, across the carcel, past the airport. I wonder, let's say it's the year 1415, we're right on this spot in a boat, maybe six feet higher than now. Can we see the Templo Mayor in Tenochtitlan? I try to imagine the scene.
Anthropologist Oscar Lewis describes "Neza" in his classic study, "Five Families." Writing in the early 50s, Lewis described the lives of five Mexican families. One lived in Neza. At the time it was a collection of squatters on the margin of the capital, populated by the poorest, latest migrants to the city. Today it is a city of 1.2 million, but really it is a part of the Greater Mexico City contiguous urban area.
Source: thedagger.com (text) imagenesaereasdemexico.com (photo)

NezahualCóyotl (Hungry Coyote) was considered by his peers to be the greatest poet of ancient Mexico. His compositions had vast influence, stylistically and in content. Filled with thought, symbol and myth, his poetry moved his people's culture so deeply that after his death generations of poets to follow would stand by the huehuétl drum and cry, "I am NezahualCóyotl, I am Hungry Coyote," and sing his poems and keep them alive.
NezahualCóyotl was not only a great lyric poet, but was famed as an architect, engineer, city planner, reluctant warrior, law-giver and philosopher. The cultural institutions he established included a library of hieroglyphic books, a zoological garden-arboretum, and a self-governing academy of scholars and poets. He led his city-state out of foreign domination, and transformed it into a wellspring of art and culture. The seventh ruler (tlacatecuhtli) of Tezcoco, a large pueblo on the north shore of Lake Tezcoco, 10 miles across the water from the capital of the Aztecs, Hungry Coyote promoted a renewal of Toltec learning, based on the peaceful religion of Quetzalcóatl, at the very moment when the Aztec cult of sacrifice was coming into ascendancy. All the Nahuatl-speaking city-states in the Valley of Mexico looked to Hungry Coyote's Tezcoco as the cultural centre of their world.
Source: red-coral.net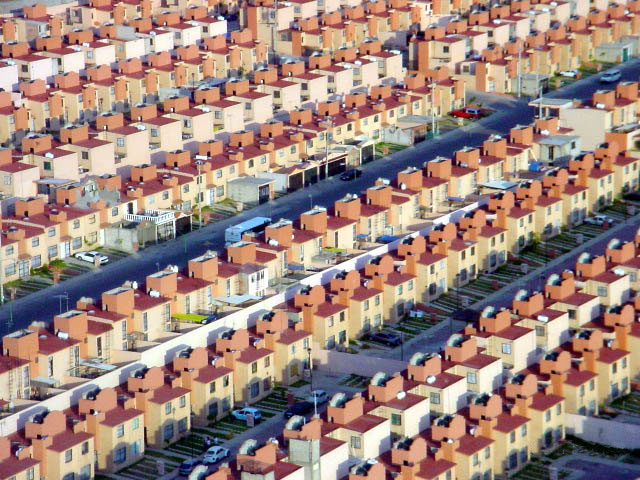 Tienen que aprender a ser vecinos, Casas Geo en Tultitlan
(They must learn being neighbourly) - Tultitlan is apparently an industrial zone
Nearly six million homes are now needed in Mexico. By industry estimates, only 300,000 are built each year, increasing the deficit year after year. Homes are especially needed in states like Guerrero and Oaxaca; two of Mexico's poorest states where people are the least able to afford homes. While rich in natural resources and culture, both states are challenged by extremely mountainous terrain, diverse ethnic groups and lack of public funds. These factors have prohibited full access to education and public services and detained full economic development. In search of jobs, many of Guerrero and Oaxaca's youth have moved to the large cities in their states. Once they find to work and begin to earn money, they rarely return to their hometowns. Inevitably, they marry and want to buy a home. For the general population in these states, housing is many times unaffordable because of economic conditions, construction costs and lack of financing.
Despite these difficulties, companies such as Casas GEO and Constructora Cocoa are working to ensure that affordable options exist. With construction projects in what is called the "social sector" or "low income" sector of home building in Mexico, these two companies are working to meet what the market demands. Casas GEO has more than 25 years in the home construction business and has worked in the low-income sector for several years. Engineer Alvaro Melendez Alduenda, general director of Casas GEO Guerrero, noted that it is probably one of the only companies listed on the stock exchange that builds low-income houses. Casas GEO builds about 25,000 low-income homes annually throughout Mexico. In Guerrero, it has built 14,000 homes over the last 5 years and plans to build more in the next 5.
Prices for Casas GEO's products range between $13,000 to $30,000 for 430 square feet to 860 square feet depending on how many bedrooms a home has and where it is located. According to Melendez Alduenda, the low-income housing market is very polarised between those who can afford the cheapest home and those who can afford a $30,000 home. "There is neither product nor credit for those who have a lower middle income," he said. According to Melendez Alduenda Casas GEO is working to develop new projects for that economic group. Casas GEO is also branching out its products with new projects aimed at attracting Mexicans that live in the United States. Melendez Alduenda noted that this interesting market niche would strengthen in the future.
Source: internationalspecialreports.com (text) imagenesaereasdemexico.com (photo)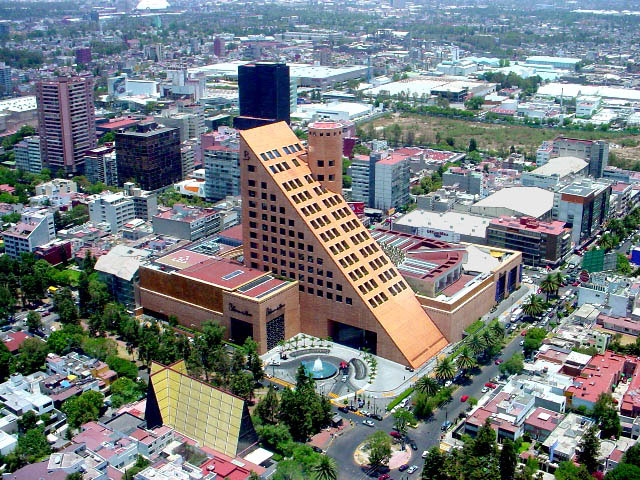 Palacio Hierro
Iron Palace? It is apparently the most exclusive and prestigious department store in Mexico.
Founded in 1891, the first store was established in downtown Mexico City. The chain features 7 stores in the metropolitan area of Mexico City and others in important provincial cities, Puebla and shortly Monterrey. The store's design and location are carefully planned to attract customers. The stores feature clothes from designers such as Armani, Hugo Boss, Caramelo, Adolfo Domínguez, Givenchy, Anne Klein, Missoni, Yves St Laurent, Adriene Vitaddini and Ermenegildo Zegna. The most renowned names in perfumes and cosmetics are also sold, including Chanel, Estée Lauder and Lancóme, and more. Palacio de Hierro uses the most avant-garde technology to guarantee easy, quick and suitable sales. The company reaches its customers through several channels including a catalogue and electronic purchases in their commerce site, providing clientele with a unique shopping experience.
Source: www.bal.com.mx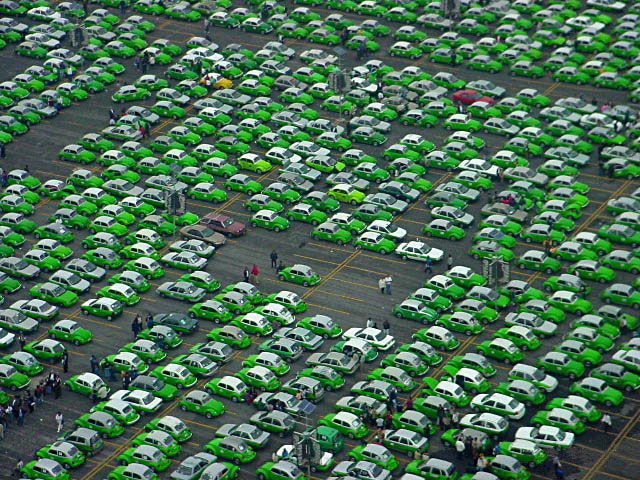 Solo taxis piratas
Single pirate taxis? Not sure what hat means.
Taxis are an integral part of Mexico City life. Legions of them, mainly in the form of green and yellow Volkswagen Beetles, scurry to hustle passengers from the ruins of Teotihuacán north of the Federal District to the canals of Xochimilco to the south, traversing the city laterally from the airport's barrios to tony Polanco. At last count, the government estimated 86,000 legitimate and 26,200 rogue cabs were on the roads. Rich and poor alike take cabs, whose metered fares start at 4.80 pesos and increase in half-kilometer intervals of 0.50 pesos, much lower than taxi rates in most US cities. There is no per-passenger hike, either. An observer once saw 11 people, though mainly children, emerge from a single Volkswagen Bug cab at the Barranca del Muerto metro station one Saturday morning...
Thousands of aspirants currently are wending their way through Mexico City's byzantine bureaucracy in the hopes of winning one out of the 18,000 available cab concessions. The hours are long and monotonous: most drivers work 12-hour days and 6-day weeks. No beaded seat massager can alleviate the discomfort of being seated for so long. "You have to get out every once in a while," says Javier Encarnación López, a big man with a fu-manchu moustache whose crewcut scrapes the roof of his green Volkswagen. Legitimate drivers also fume at the city government's inability - or unwillingness, some maintain - to do anything about pirate taxis, which have diluted business and scared away assault-weary passengers. Tourist business is slack, as well, after the US and Canadian embassies urged citizens not to hail street cabs...
"The city has changed a lot," says Pedro Barrón Aguilar, 37, a cabby for 20 years who works for Taxi RadioMex, a radio-dispatch service. "People's negative image of the cab driver has affected us a lot - economically, too. Disgracefully, for all of us who are taxistas, pirate taxis have caused us very big problems," he says during a late-night tour of Roma neighbourhood.
Source: mexconnect.com (text) imagenesaereasdemexico.com (photo)
-------- Original Message --------
Subject: Other
Date: 17 Feb 2006 07:41:46 -0000
From: <arios2@prodigy.net.mx>
This message was posted via the Feedback form.
Name: Alejandro Rios
Comments: About Taxis Piratas:
In Mexico City we have different taxi types.
| | |
| --- | --- |
| | Red Color Taxis: Taxi de Sitio are dispatched from a base; taxi drivers are contacted through a phone operator - they are able to pickup you from office/home, etc., taking you to destination. |
| | Green Color Taxis: Taxi Ecologico are "Ecological" because they use "better" gas, they are improved, pure, prevent pollution. |
| | _________________: Taxis Piratas are taxis without completed documentation/permission to be considered a legal taxi. In the mentioned pictured above, it refers to "taxis piratas" that were caught by law representatives (Public Services/Police). Those taxis are retained until paid fee, sometimes fee is so expensive car is retained by government [permanently]. |
Alejandro
See also:

The Zacatón Cenote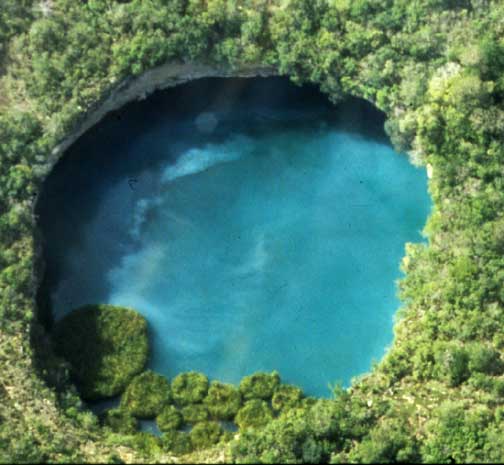 The Zacatón cenote
Cenotes are karst formations which occur when underground water etches away at limestone bedrock to form enormous subterranean caverns. Eventually the cavern roofs collapse leaving deep circular rock pools. The word cenote is a Spanish rendering of the Mayan word d'zonot which means literally "a hole in the ground".
In northeastern Mexico, there is a group of 5 interconnected cenotes, one of which is known as Zacatón. At a depth of 305 metres, it is the deepest in the world and it is also nearly perfectly circular with a diameter of approximately 116 metres...
In 1795, Félix María Calleja, viceroy of New Spain, wrote: "there is a large cave lit by natural skylight; and 200 varas from this cave there is a deep cavity that has a lake with an island." The lake he was referring to was the Zacatón cenote which, in fact, contains 15 islands. However this detail may have been overlooked by Calleja because he may not have realised that the islands actually move about quite freely upon the surface of the rock pool...
Source: laputanlogic.com

Visit the site for more information and several more photos.
See also:
| | |
| --- | --- |
| | Logging Threatens Mystical Underground World (in the Environment section) - Underfoot lies another world, even more ancient: a dark labyrinth of caves and subterranean streams carved through limestone and marble bedrock. Huge sinkholes, pits and vertical crevices called grikes riddle the forest, channeling water downward, where it may flow for miles before emerging. This landform, characterised by subsurface drainage, is known as karst. |
| | Punching a Hole in the Earth (earlier in this section) - Karst is limestone rock eaten away by runoff water which turns into sulfuric acid when combined with the rock, thus forming caves or sinkholes. This sinkhole is 330-feet deep and has swallowed a dozen houses and three people - so far... |
| | Madagascar Karst (earlier in this section) - This geological formation, called a karst, is the result of erosion, as acid rains have gradually dissolved the stone of the chalky plateau and carved out sharp ridges that can rise to heights of 95 feet (30 m). This nearly impenetrable labyrinth (tsingy is the Malagasy term for "walking on tiptoe") shelters its own unique flora and fauna, which have not been completely recorded... |
| | Bryce Canyon (in the Photographs section) - for a lovely aerial shot of karst fins... |

For more articles relating to Money, Politics and Law including globalisation, tax avoidance, consumerism, credit cards, spending, contracts, trust, stocks, fraud, eugenics and more click the "Up" button below to take you to the page on "How Many Countries in the World?" Clicking "Up" from there will take you to the Index for this section.