It Could Be Bad for Baz
Toadally Cool...
Driving round a bend and skidding on a mat of dead toads is very unpleasant for all concerned.
- Amanda Hillier

If God had wanted us to be concerned for the plight of the toads, he would have made them cute and furry.
- Dave Barry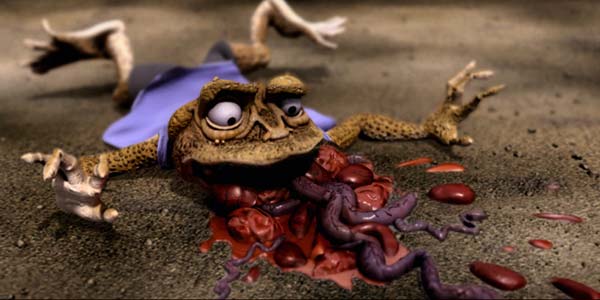 What really happened to Baz? There are several possibilities...
Click to Play
Source: cane-toad.com
In November 2001 David Clayton and Andrew Silke took 5 months off their day jobs to create their own short film. Cane-Toad was made with Maya and (rightfully) launched their careers. Visit their website.
See also:
| | |
| --- | --- |
| | Frogs - the bottom article, "The Unwanted Amphibian", is about - guess what? - cane toads. |

For more animation, video clips, and shockwave games click the "Up" button below to take you to the index page for this Animation section where you will find all sorts of things.