Harbour Scene
A Tiny Sampling of the Fauna Seen Around Wellington Harbour
Animals have these advantages over man:
they never hear the clock strike,
they die without any idea of death,
they have no theologians to instruct them,
their last moments are not disturbed by unwelcome and unpleasant ceremonies,
their funerals cost them nothing, and no one starts lawsuits over their wills.
- Voltaire

People must have renounced, it seems to me, all natural intelligence
to dare to advance that animals are but animated machines...
It appears to me, besides, that [such people] can never have observed with attention the character of animals,
not to have distinguished among them the different voices of need, of suffering, of joy, of pain, of love, of anger,
and of all their affections.
It would be very strange that they should express so well what they could not feel.
- Voltaire (again)

Wellington Harbour covers an area of 8900ha and has 76km of accessible coastline stretching from Baring Head on the East to Owhiro Bay in the West. The enclosed nature of the Harbour gives many sheltered beaches and bays regardless of wind direction. The south coast of the area is exposed to the open sea and provides good diving and fishing areas but access is constrained by weather conditions.
Source: A brochure produced by the Wellington Regional Council

Whales, dolphins and seals are legally protected within New Zealand's 200-mile exclusive economic zone by the Marine Mammals Protection Act and Regulations. Penguins are protected by the Wildlife Act.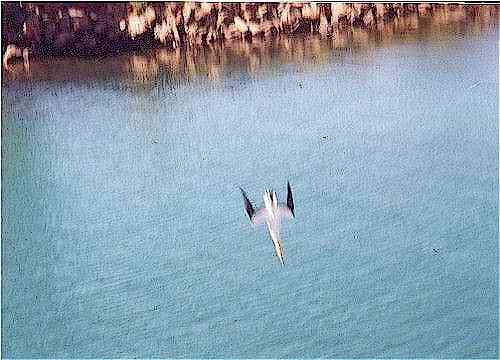 This gannet was diving for pilchards in the lagoon near the rowing club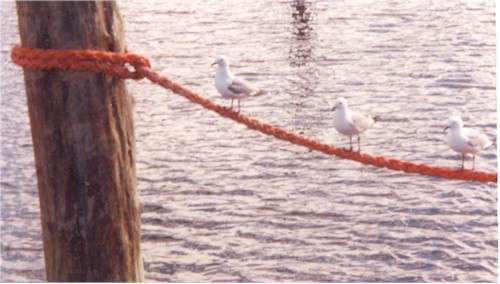 These red-footed seagulls were waiting to snatch overlooked crumbs from hungry black-backed gulls eating bread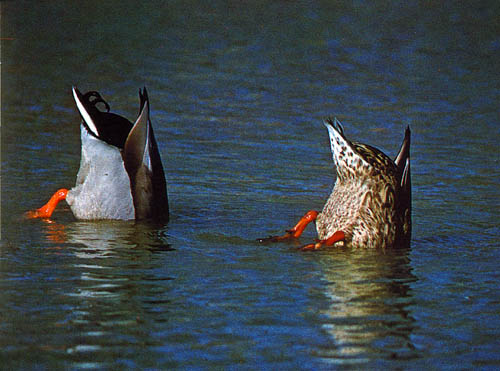 Ducks bow? Looks like their sterns to me!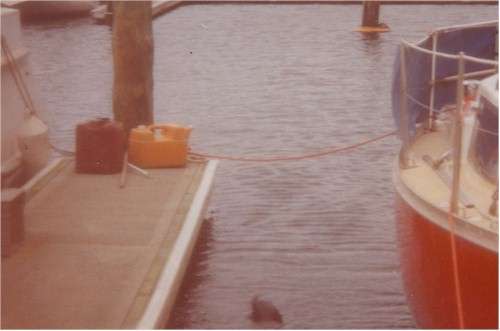 At the bottom of the photo, between the sailboat and the finger pier, is a juvenile seal who cruised around checking out Chaffers Marina one afternoon
What happens when you find a seal in a public place? Relax! It's normal. Let it rest alone (keep dogs and other pets away). Don't move or feed it as that can stop it returning to the wild and it could give a nasty bite. If it's trapped in plastic or very badly wounded call the Department of Conservation (Te Papa Atawhai). Unfortunately 40% of seal pups die from natural diseases - death is a fact of life.
If you like, you can study the seal at a distance - binoculars give great close-ups. Don't walk between a seal and the sea because it may panic and injure itself trying to reach the water or give you a painful and infectious bite.
More than 2,000 seals hang out at Sinclair Head, Turakirae Head, Palliser Bay, Honeycomb Rock and Mana and Kapiti Islands during the winter. They can dive to 300 metres in Cook to catch hoki that rise through the swift channel between June and September.
Like living submarines they shut their ears and empty their lungs to survive huge water pressure. (Fishing boat nets, however, can go even deeper.)

Harbour Whale Stays Out of Sight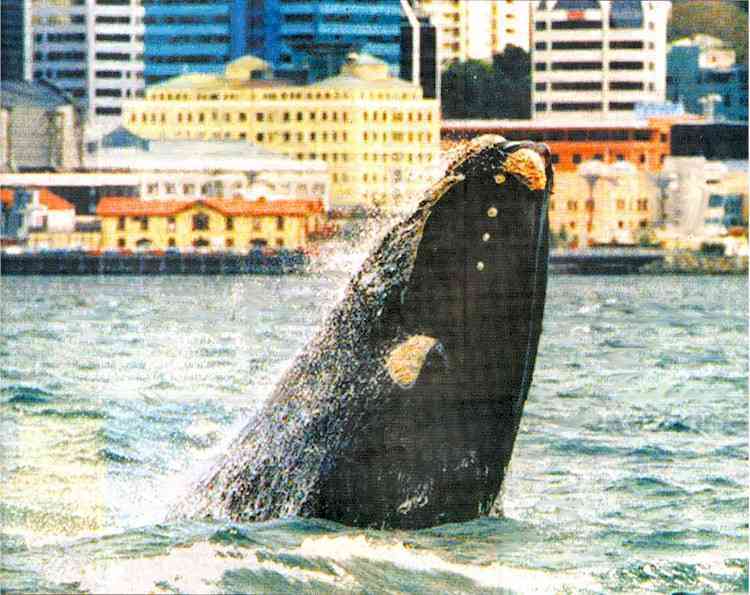 Cavorting - the southern right whale launches itself from the water in Wellington Harbour (Picture: The Herald)
by Mike Houlahan
The whale visiting Wellington Harbour was lying low this morning, with no further sightings reported.
The southern right whale first appeared in the harbour on Tuesday, and was first seen near the Days Bay Wharf. It was seen by several people yesterday swimming in the inner harbour, between Oriental Bay and the container wharf. The whale is about 18m long, and Department of Conservation staff said it appeared to be healthy. Southern right whales often swim alone.
Wellington Harbour used to be a popular calving area for the species and right whales used to be plentiful in the harbour before they were nearly wiped out by whaling, Bruce Dix, marine mammal expert for DOC's Wellington conservancy, said. He said colonists used to complain about the noise the whales made in the harbour.
DOC was not concerned about the whale, as it would move on when it was ready, he said. It was more concerned about people in boats trying to get a closer look. Under the Marine Mammals Protection Act, sightseers are not allowed to harass whales. The harbourmaster's office said no special warning had been issued to shipping concerning the whale as the fact it was in the harbour was common knowledge.
Source: The Evening Post Thursday 2 October 1997

Upon our return to New Zealand, it was nice to find that whales still visit Wellington Harbour...
A Wave for Wellington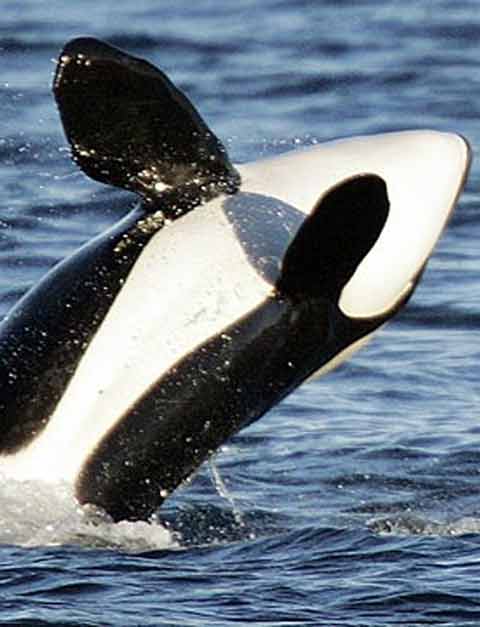 A pod of killer whales cruising around Wellington Harbour brought crowds of spectators to the city's shorelines.
by Matt Calmar and Greer McDonald
A pod of killer whales cruising around Wellington Harbour brought crowds of spectators to the city's shorelines. The pod of up to 12 orcas, including juveniles, females and several large males, spent much of yesterday inside the harbour before heading for the seal colony at Red Rocks in the hope of a late lunch. They were first spotted around Matiu/Somes Island in the morning and moved majestically past Breaker Bay and Lyall Bay, reaching Island Bay about 2.30pm. Onlookers saw them jump from the water, surf along the breakers and venture within a few metres of the shore.
Rebecca Rose and husband Matt Chamberlain spotted the pod in Lyall Bay and raced to collect children Will, 9, Tom, 7, and Lucy, 4, from school and preschool. Ms Rose said she had never seen them run so fast when they learned there were killer whales to be seen. But when they got to the bay and were told the whales had gone, "the kids' faces just dropped and they started to cry". The family drove off-road to Red Rocks, getting there just in time to see the pod arrive. "It made their day. Three of the pod came in surfing straight into the beach. They were just planing through the water."
Source: stuff.co.nz photo credit Craig Simcox/The Dominion Post

New Zealand Whaling
Whaling ended in New Zealand in 1964.
A 1000m deep canyon tumbles below Cook Strait. Wellington's shallow harbour provides "drive in" snacks for whales where warm and cold currents throw up tasty treats (a zooplankton soup). Humpback and southern right whales strain the soup through sieve-like baleen. Sperm whales hang out in Cook Strait all year round. They dive deeply for massive squid and groper. They were once hunted for oil to make medicines and candles.
Pods of orcas sometimes power into Wellington for a meal of stingrays. "I've seen them throwing stingrays around like frisbees," orca researcher Ingrid Visser says. They also snack on seal and dolphin. She estimates there are 150 - 200 orcas in New Zealand waters. Orca grow up to 9 metres. The triangular fin of the bulls can be up to two metres tall - the length of a calf. Calves can weigh up to 100 kilograms (220 pounds). Orcas belong to the dolphin family.
If you spot a whale, orca or dolphin in the water, stay at least 50 metres away; keep your speed below 5 knots. Don't chase them in a boat, kayak, or on a jet ski. Don't pass through a pod or cut off its path - it could be dangerous. Keep away from young animals! Parents may see you as a threat.

Making a Splash

Boaties on Wellington Harbour enjoy the company of a large pod of dolphins that visited the area yesterday. Thrilled onlookers dived in to swim with the dolphins which spent much of the afternoon frolicking in the calmer waters of the inner harbour. When the pod swam close to the Overseas Terminal wharf, Wellingtonian Mark Davis couldn't resist getting a little bit wet. "Why not? You're not going to get that sort of chance again - and I didn't have to pay anything!" Mr Davis, a staff nurse at Wellington Hospital's accident and emergency department said of his experience, "It was awesome. I've swum with the stingrays in the Cayman Islands, and this was better."
The pod of about 200 dolphins delighted a large group of canoeists, who paddled out to join them in the harbour, and a sailor in a catamaran, who could at least keep pace with some of the swimming animals.
Source: The Evening Post Saturday 17 March 2001 Photo credit Phil Reid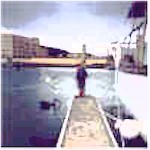 This is my son, Wolf, feeding a black swan in Chaffers Marina. (A larger version of this picture appears in Picture This! at Re-view).
I've included it again here because the following article is about black swans in Rotorua, but I wanted you to know that black swans also occasionally appear in the Wellington Harbour. (Well, we've only seen them once, but I understand they appear frequently in areas around the Hutt River.)
We found our visitors to be very polite and well-behaved. They reminded me of the Canadian geese who occasionally visited us in North Carolina.

Swanning off to Mexico
Just because swans mate for life, I don't think it's that big a deal. First of all, if you're a swan, you're probably not going to find a swan that looks much better than the one you've got, so why not mate for life?
- Deep Thoughts by Jack Handey

by Eleanor Black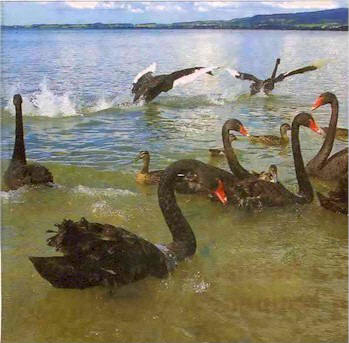 Black swans are sometimes bad-tempered
Bad-tempered black swans in Rotorua have bitten one child too many. Twenty of the big birds - best known for intimidating the toddlers and hapless tourists who crowd War Memorial Park in summer months to toss bread - will be sent to a Mexican zoological garden within three weeks. The Rotorua District Council has approved the sale of the swans by Dama Exporters, specialists in shipping wildlife, after years of struggling to control the quarrelsome birds, who thrive at Lake Rotorua and leave messy mounds of droppings on walkways. The council is also putting up light-hearted signs in the style of 1950s horror film publicity posters warning people not to feed the remaining birds because of the risk of attack.
While the bird population is fluid, at any time up to 80 swans bob around in the shallow water bordering the park. They are one of the most common water fowl in New Zealand but their presence is a magnet for tourists, who stream from buses to watch the birds nip one another's necks, fight over scraps of food and preen in the sunshine. Unfortunately, that well-meaning attention provokes the swans to bite, says parks and recreation manager Garry Page, who also admits that black swans are known for being more aggressive than their white counterparts.
Dennis Olliver, who is responsible for keeping the central business district tidy, estimates that up to $25,000 and 450 hours are spent annually clearing the lakefront footpaths of swan and seagull droppings, chewing gum and ice-cream. It is understood that more swans will be sent to Mexico if the first shipment is well-received. "But they're prolific breeders," says Mr Olliver. "Unless we take away every living swan, egg and cygnet we're not going to get rid of them."
Source: NZ Herald Friday 1 December 2000 photo credit NZ Herald by Nicola Topping
See also:

Positively Penguin
Wellington is one of the few places penguins still try to live with people. Most are now on off-shore islands. Ferrets and stoats eat them in the bush and family dogs and cats kill them when they come ashore to nest and moult.
Penguins used to nest between rocks or caves among the flax and coastal cliffs but there are houses and roads in these places now. These days most of Wellington's little blues live on Matiu/Somes Island in the middle of the harbour - about 600 pairs. They paddle around the harbour hunting small fish, crustaceans and squid.
If you live in an area where penguins come ashore, keep your dog under control at night. Drive slowly on coast roads at dusk and dawn. Penguins often return to where they were hatched. Stop them getting under your seaside house by sealing all entrances to basements with board or chicken wire. Contact the Department of Conservation for nest box plans as a nest box will encourage penguins to nest away from houses and roads.

I really miss living on the harbour - especially the antics of the ducks, the grace and coordination of the terns, the arrogance of the seagulls, the surprise and delight of an occasional penguin or mammal. We experienced the life of the harbour in a very personal way, both good and bad. We saw what even the slightest oil slick could do to the ducks. We saw Mrs Duck lose her ducklings one by one to predators, waves and wake. We saw the flotsam after a rain, the ravages of the algal bloom, the muddy brown days. But we met and greeted the graceful swans (in our experience they bit only bread), the herons, gannets, penguins, seals, sea lions, dolphins and all the rest. Wellington's Harbour is definitely alive and a source of pride. Strict pollution laws are necessary for the rich experience of interfacing with marine life to continue. Please support their enforcement. Once relinquished, the experience of a thriving harbour ecosystem is difficult to regain.
Links:
environment.org.nz, doc.govt.nz, zoomwhales.com, oceanlink.island.net, adopt-a-dolphin.com, penguin.net.nz
Source: Some information for this page was taken from Outlook 2001 The Dominion Tuesday 6 March 2001

For more on animals, including reptiles, crustaceans, arachnids, insects, fish, birds, pets, livestock, rodents, bears, primates, whales and Wellington's waterfront, click "Up" below to take you to the Table of Contents for this Animals section.