Pine Log Prices For 20/7/98
I Pine for You...
A handful of pine-seed will cover mountains with the green majesty of a forest. I, too, will set my face to the wind and throw my handful of seed on high.
- Fiona MacLeod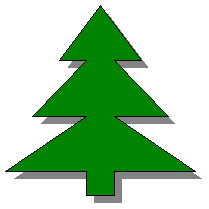 ...at a Price
Pine Log Prices
Prices for week beginning 20 July 1998
Price delivered to mill or wharf (dollars per tonne)
| | | | | | | | |
| --- | --- | --- | --- | --- | --- | --- | --- |
| GRADE | Pruned P1 Sawlogs | Pruned P2 Sawlogs | Japanese Export A | Korean Export K | Domestic Sawlogs S | Domestic Sawlogs L | Chips Logs Pulp |
| REGION | $ | $ | $ | $ | $ | $ | $ |
| MIlls - East Coast | 160-170 | 120-150 | | | 80-92 | 55-70 | 30-32 |
| Mills - West Coast | 160-175 | 120-145 | | | 80-90 | 57-75 | 15-30 |
| Export - Gisborne | | | 68 | 48 | | | 30-37 |
| ExportNapier/Wgtn | | | | | | | 30-32 |
| No Island Average | 170-183 | 128-169 | 78-85 | 41 | 83-92 | 53-65 | 32-38 |
| So Island Average | 127-132 | 103-113 | 63-73 | 27-61 | 64-74 | 51-60 | 29-32 |
NOTES
1. Prices are general indications only for woodlots and will vary with density, age and general tree quality.
2. Prices and variations are based on information provided by log purchasers and consultants.
3. Where a price has been provided in cubic metres, it has been adjusted to a per tonne basis at .95 conversion factor. Prices quoted in JAS metres have been further adjusted -3% for pruned logs, -5% for unpruned logs and by -15% for chipwood. These are indicative values only, and conversion ratios will vary widely, depending on climate, growth rate, tree quality, age, et cetera.
CHANGES: Since 15 June 1998
Export: Korean exports remain dead but there has been a tentative pick-up activity to Japan. Export chip log prices are nominally unchanged but prices are coming under pressure.
Domestic: Pruned log prices are holding but unpruned sawlogs and industrial grades are down a little as demand eases. Wet weather has slowed logging and some supply pressure may arise. Pulp demand very low with pulp logs being left to rot.

Chipping In
To me a lush carpet of pine needles is more welcome than the most luxurious Persian rug.
- Helen Keller

Some interesting news from industry sources:
| | |
| --- | --- |
| | Lumber exports (processed timber, not logs) increased by 14% in volume and 17% in value in the year to 31 March 1998. Due to the Asian crisis increases came mainly in the first half of the year, although the second half also showed some growth over the same period of the previous year. |
| | A recent Ministry of Agriculture & Forestry report predicts total forest product export earnings will be back to their September 1997 (pre Asian Crisis) levels by the end of 1999. |
| | Export values of lumber are expected to pass log exports for the first time early in the next century. |
| | Despite the Asian crisis having depressed forest products markets over the past year, log prices in most grades, and especially the higher grade pruned and A export logs, are higher in New Zealand dollar terms now than they were two years ago. Although well below the highs of 1993, pruned log prices are approximately 25% higher than they were before the 1993 price spike on an inflation adjusted basis. |
Source: Greenplan Timber Talk

Unfortunately, the good ship Flat Rock Forests Trust was unable to weather her personal storm and sank before any economic rescue arrived.

What's Wood Good for?
You can live for years next door to a big pine tree, honoured to have so venerable a neighbour, even when it sheds needles all over your flowers or wakes you, dropping big cones onto your deck at still of night.
- Denise Levertov

The Environment!
Wood compares very favourably with other structural building materials. In their manufacture and use wood products consume less ozone-depleting fossil fuel than do competing materials such as steel, aluminium, plastic or concrete. Also wood processing requires less water and releases fewer harmful chemicals into the air and water.
A Canadian study compared the environmental impacts of two 90 square metre wall assenblies, one made from wood and the other from steel.
As the graph illustrates the wood wall required 1/3 as much energy as the steel wall to manufacture. The steel wall also produced 3 times the volume of CO2 emissions as the wood wall.
Other findings included the fact that harmful air emissions were considerably higher for the steel wall and that steel required 25 times as much water during the manufacturing process.
Apart from these technical considerations it is also important to consider that trees provide the only renewable building material (other than ice used in igloos!). Trees can be grown and regrown. Trees' growth is fuelled by the energy of the sun which is free. And as trees grow they provide immeasurable benefits in terms of aesthetic pleasure, shade, wildlife habitats and by cleaning the air we breathe.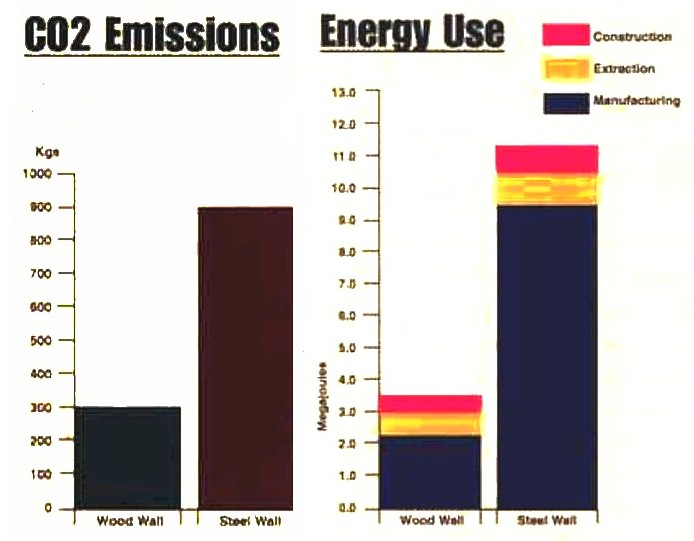 The above chart purporting to show that wood is good for the environment was also taken from the Greenplan sales brochure. I include it here merely to illustrate that, logically, forestry should be a good investment. The fact is that it was not a good investment for us, dear Unitholder. However, the fault lies not with the trees...

For news articles on the Flat Rock Forests Trust, forestry, the Serious Fraud Office, one immigrant family's experiences, immigration specialists, fraud, juries, logging, and more, check out the News Table of Contents. Or you may wish to visit the Forestry Trust Table of Contents to read how a unit trust went bust. Or the Topics Table of Contents which offers a different approach to lots of topics - among them poisonous insects, eating dogs, what's addictive, training vs teaching, tornados, unusual flying machines, humour, wearable computers, IQ tests, health, Y chromosomes, share options, New Jersey's positive side, oddities, ageing, burial alternatives, capital punishment, affairs, poverty, McCarthyism, the most beautiful city in the world, neverending work and more...