A Variety of Riches
What Sort of Doctor Should I Be?
Prescription: A physician's guess at what will best prolong the situation with least harm to the patient.
- Ambrose Bierce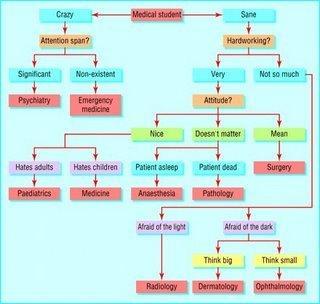 Source: gssq.blogspot.com

Physician Working Conditions
Many physicians — primarily general and family practitioners, general internists, pediatricians, ob/gyns, and psychiatrists — work in small private offices or clinics, often assisted by a small staff of nurses and other administrative personnel. Increasingly, physicians are practicing in groups or health care organisations that provide backup coverage and allow for more time off. These physicians often work as part of a team coordinating care for a population of patients; they are less independent than solo practitioners of the past.
Surgeons and ænesthesiologists typically work in well-lighted, sterile environments while performing surgery and often stand for long periods. Most work in hospitals or in surgical outpatient centres. Many physicians and surgeons work long, irregular hours. Over one-third of full-time physicians and surgeons worked 60 hours or more a week in 2004. Only 8% of all physicians and surgeons worked part-time, compared with 16% for all occupations. Physicians and surgeons must travel frequently between office and hospital to care for their patients. Those who are on call deal with many patients' concerns over the phone and may make emergency visits to hospitals or nursing homes.
Source: Bureau of Labor Statistics, US Department of Labor, Occupational Outlook Handbook, 2006 - 07 Edition

Physician Earnings (2004)
The human body experiences a powerful gravitational pull in the direction of hope.
That is why the patient's hopes are the physician's secret weapon. They are the hidden ingredients in any prescription.
- Norman Cousins

| | | |
| --- | --- | --- |
| Specialty | 2 Years or Less Experience | More than 2 Years Experience |
| Anesthesiology | $259,948 | $321,686 |
| Surgery: General | 228,839 | 282,504 |
| Obstetrics/gynecology: General | 203,270 | 247,348 |
| Psychiatry: General | 173,922 | 180,000 |
| Internal medicine: General | 141,912 | 166,420 |
| Pediatrics: General | 132,953 | 161,331 |
| Family practice (without obstetrics) | 137,119 | 156,010 |
Median total compensation of physicians by specialty, 2004
Source: Medical Group Management Association, Physician Compensation and Production Report, 2005

For articles related to working including why, which career, bosses, time constraints, focus, trends, gender issues, pay differentials, getting laid off, getting re-hired, dependents, part-time work and balancing work and values click the "Up" button below to take you to the Index page for this section on Working.