Enhancing Nature
Instrumental Art
Sculpture occupies real space like we do... you walk around it and relate to it almost as another person or another object.
- Chuck Close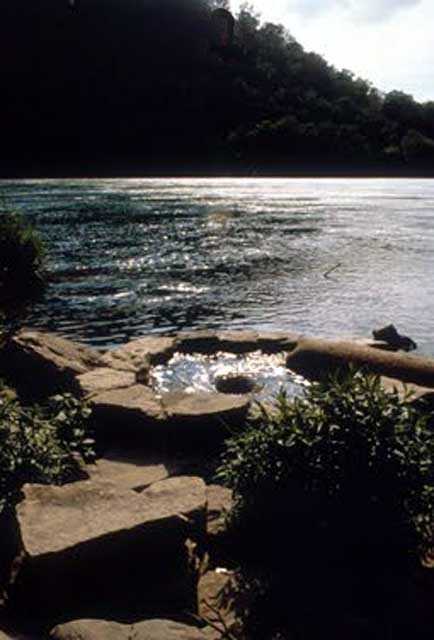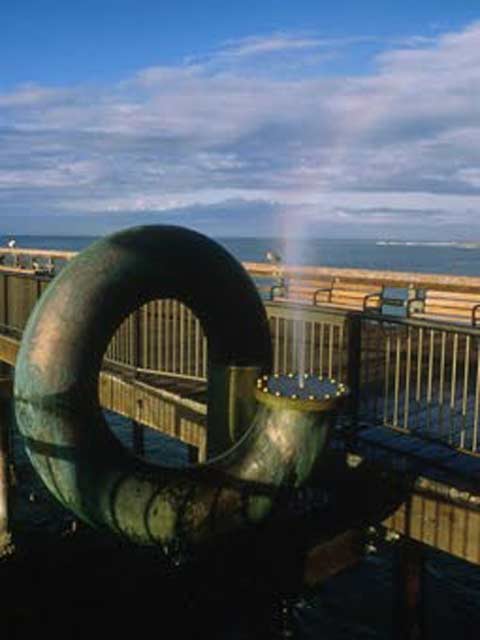 Basin of Attraction - Artpark, Lewiston New York. 1989

Water from the Niagara river entered a six-foot diameter, spiral-shaped, stone basin and formed a whirlpool. The whirlpool changed in intensity in response to fluctuations in the rivers currents. The basin was constructed of granite found on the site. Commissioned by Artpark.

Source: nedkahn.com/water.html#turbulent

Wavespout (Breathing Sea) - Ventura Pier, City of San Buenaventura, California. 1993

A fountain that used the energy of ocean waves to create a blow hole on the end of the pier. Air pressure surges from passing waves blew a spray of seawater out of the spiral structure. The spray cascaded back down to the ocean through a slot in the pier deck that also framed the view of the sea below. The shape and power of the spray varied with the changing rhythms of the waves as well as with the tides and winds. Height 7'. Completed in 1993. Destroyed by damage to the pier 3 years later.

Source: nedkahn.com/water.html#turbulent

For photos of the earth and moon, stained glass, sunsets on Wellington Harbour, Lady Fair, Civic Square, the old mill, the Whippany River, historical houses, Lake Parsippany and more clicking the "Up" button below takes you to the Index page for this Photographs section.