You Might As Well Die Laughing
Reset Me
I never think that people die. They just go to department stores.
- Andy Warhol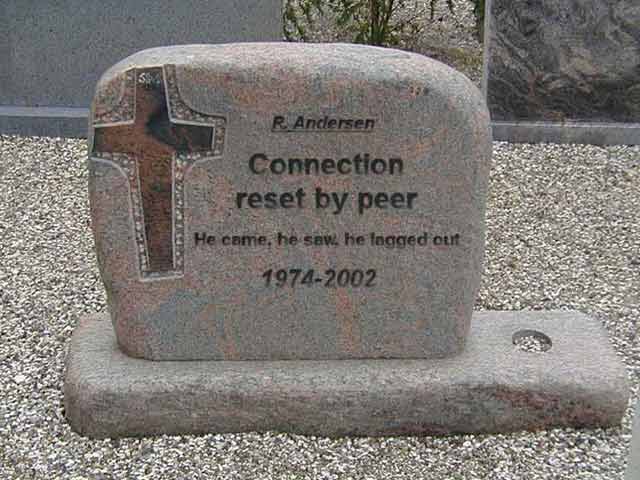 Stop Sign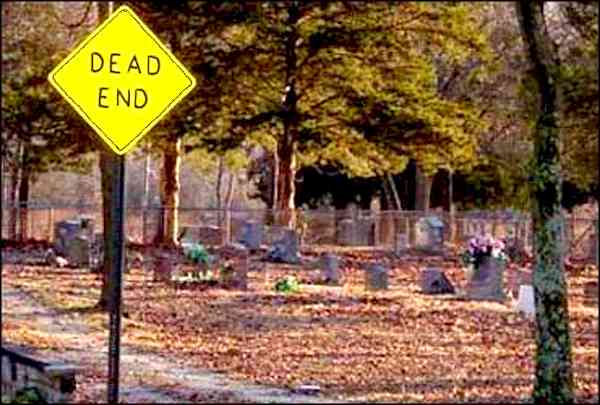 No Exit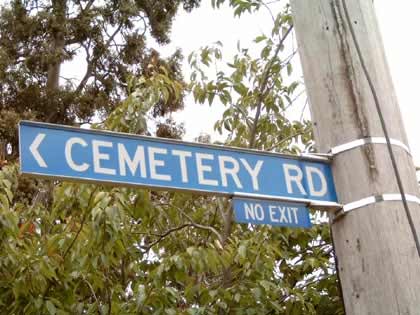 Source: pixdaus.com

One Way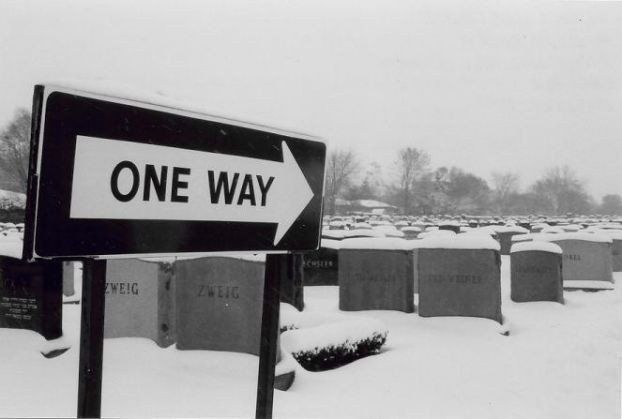 Source: dockera.com

Knocking on Heaven's Door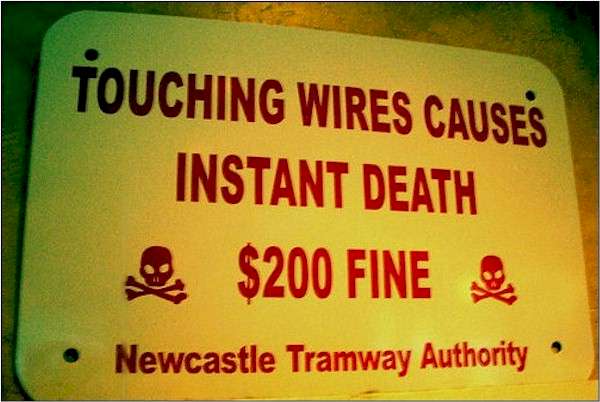 Adding insult to injury?
Source: flickr.com

Tarry Here
A letter from Washington Irving addressed to Lewis Gaylord Clark, then editor of Knickerbocker Magazine, asking that the name Tarrytown Cemetery be changed to Sleepy Hollow Cemetery because it was a better name. (Washington Irving is now buried in Sleepyhollow Cemetery - how fitting...)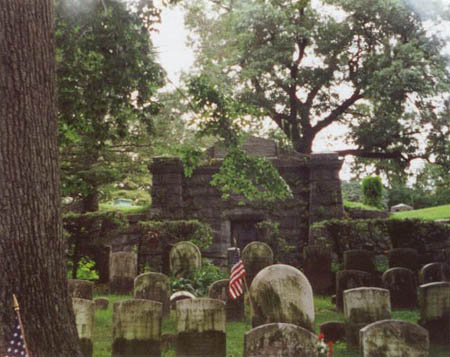 Washington Irving's grave is the one with the flag
New York
27 April 1849

My Dear Clark:

I send you herewith a plan of a rural cemetery projected by some of the worthies of Tarrytown, on the woody hills adjacent to the Sleepy Hollow Church. I have no pecuniary interest in it, yet I hope it may succeed, as it will keep that beautiful and umbrageous neighbourhood sacred from the anti-poetical and all-leveling axe. Besides, I trust that I shall one day lay my bones there. The projectors are plain matter-of-fact men, but are already, I believe, aware of the blunder which they have committed in naming it the "Tarrytown," instead of the "Sleepy Hollow" Cemetery. The latter name would have been enough of itself to secure the patronage of all desirous of sleeping quietly in their graves.

I beg you to correct this oversight, should you, as I trust you will, notice this sepulchral enterprise.

I hope as the spring opens you will accompany me in one of my brief visits to Sunnyside, when we will make another trip to Sleepy Hollow, and (thunder and lightning permitting) have a colloquy among the tombs.

Yours, very truly,
Washington Irving
Source: sleepyhollowcemetery.org

Avoiding the Vultures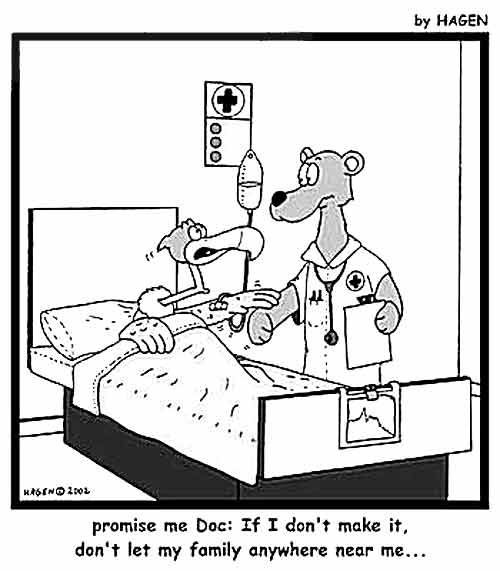 Can't It Wait?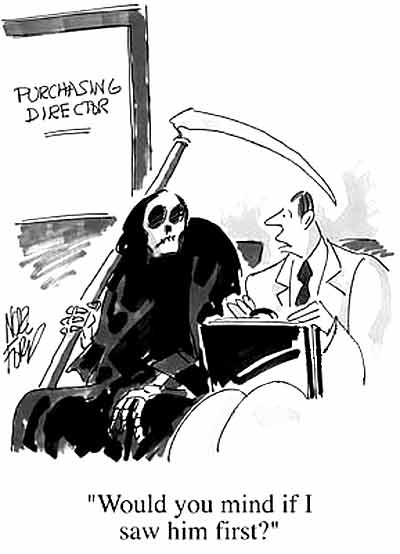 Reaper Takes the Subway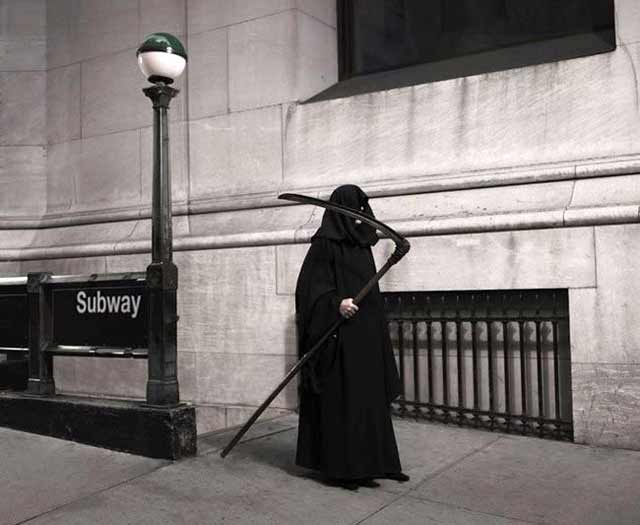 Source: dockera.com

Looking for the Positive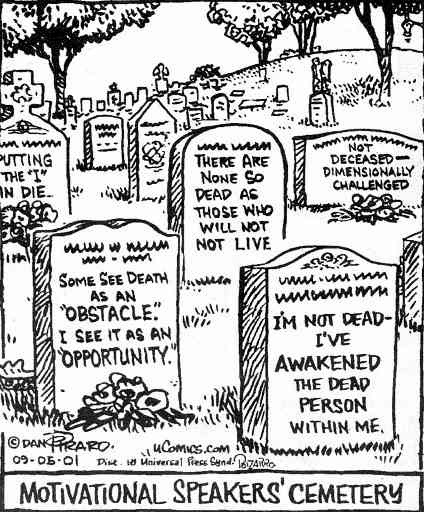 Source: Funny Times August 2003

Am I Gone? (Can't You Tell?)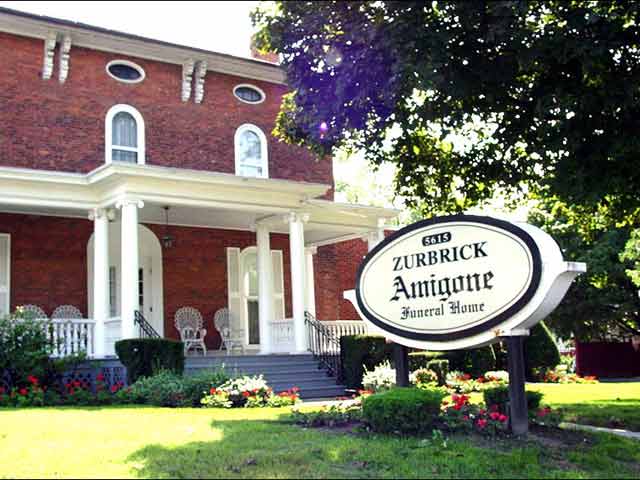 5615 Broadway, Lancaster, NY 14086, 683-4499 Source: amigone.com

For articles related to ageing, including feats that can be accomplished, and a non-spiritual look at what happens after death - funerals, jerky, popsicles, fertiliser, ashes, orbit or dust - click the "Up" button below to take you to the Index page for this Older and Under section.