Deserving What We Get
Gran, 93, Adds 3,000-Metre Plunge to Dare List
It was a love of the air and sky and flying, the lure of adventure, the appreciation of beauty.
It lay beyond the descriptive words of men - where immortality is touched through danger,
where life meets death on equal plane; where man is more than man,
and existence both supreme and valueless at the same time.
- Charles Lindbergh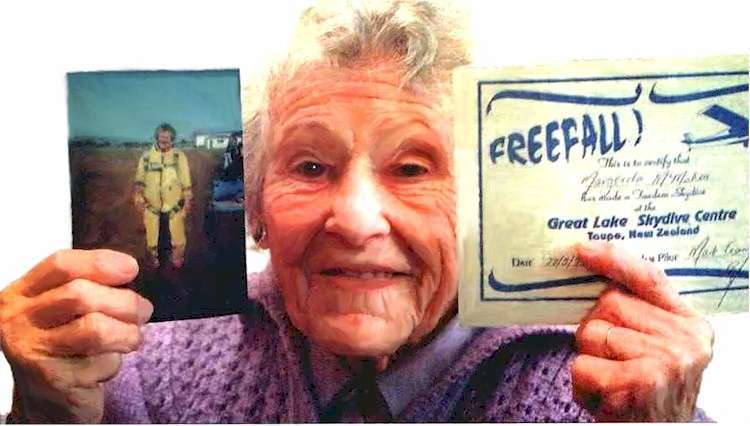 Mrs McMahon with a picture of herself in skyjumping tunic and the certificate that attests to her jump
by Cameron Bates
A 93-year-old Wellington woman spectacularly upstaged 44 high school students, including her granddaughter, when a spur-of-the-moment decision saw her leap from an aeroplane to set a world record. Margereta McMahon's tandem jump from 10,000 feet (3000 metres) set what a parachuting company spokesman said was a world record. Mrs McMahon said her 17-year-old granddaughter, Rosie O'Sullivan, had done it, so "why couldn't I?"
"I've lived longer, so I should have more experience."
Mrs McCahon said that after her initial horror passed after watching Rosie, who took her first solo flight aged just 16½, land with 44 other Nga Tawa 5th formers at Marton on Saturday, she could not pass up an offer to jump. "I would have been mad not to do it." Not only was the jump a great experience, but it allowed her to share an experience with so many teenagers despite the age difference, Mrs McMahon said.
Other experiences, including being the oldest person to complete the luge ride in Queenstown, a balloon ride, and a plane flight over Antarctica, did not compare to the jump, she said.
Despite an initial shock after the 200kmh free fall, and the jolt when the parachute opened - "I thought something was wrong but thought if it's going to end, it's going to end, so why worry?" - the jump was over too quickly. Fears of injury, including to her recently replaced hip, were misplaced and the instructor made a perfect landing. "It was like stepping off a kerb."
Taupo-based Great Lake Skydive Centre owner Greg Smith said Mrs McMahon had set a world record as the oldest person to make a tandem jump, bettering the record of another 93-year-old, from Christchurch. "She's a sprightly 93-year-old lady who has just shown that age should not be a barrier to doing what you want to," he said.
Mrs McMahon's daughter, Lynn Grady, said her mother was fiercely independent woman who after losing her husband 20 years ago to cancer, grew her own vegetables and maintained her quarter acre (0.1-hectare) property herself. She even painted her own home, Mrs Grady said of her mother.
Mrs McMahon said she was not yet ready to settle down and wanted to repeat the jump. Other daredevil activities she wanted to do before she reached 100 included hang-gliding.
Source: The Dominion Monday 24 May 1999 photo credit Dave Hansford

Jump Celebrates Wartime Escape
Second time plucky: Jack Hardie, 84, attached below
tandem master Lyndsay Karetai, jumps from a Skydive Nelson aircraft
for his anniversary jump in Motueka yesterday. It was 60 years
since Mr Hardie's parachute escape from a blazing World II bomber.
by Rachel Scollay
A Motueka man marked the 60th anniversary of his parachute escape from a blazing World War 2 bomber with another jump - this time with Skydive Nelson. Getting ready for his tandem jump yesterday, Jack Hardie, 84, said that when his plane was shot down over Holland on January 27, 1943, only three of the aircraft's 7-man crew reached the ground alive. "It was a Halifax bomber with three tonnes of incendiaries on board and 1000 gallons (3800 litres) of petrol and it was all burning," Mr Hardie said. "The plane was spinning and we couldn't get out. Luckily the plane blew up and released three of us. The other four got killed."
Mr Hardie, one of the pilots, said he was "in a bad way" but he was conscious enough to pull the ripcord. "I thought I would feel the jerk (of the parachute opening), but I never did." The next thing he knew he was lying in a church in the village of Mill, on the Dutch border with Germany, where he had been taken by villagers. They told him it took them about an hour to find him after his descent as he had landed in the snow, with his parachute covering him. When they realised he was a New Zealander they sent for 13-year-old Antony Vlute, who was the only person in the village who could speak English. (Mr Hardie said he met Mr Vlute a decade ago, having discovered that he had moved to New Zealand in 1950 and was living in Auckland.)
The Germans came looking for the crash survivors and rounded them up. They were sent to a prison camp in Poland.
Mr Hardie was joined in Monday's jump by his friend Noel Harris, 72. The pair were cheered on by family and friends, including Mr Hardie's brother and sister and four great-grandsons. Mr Hardie said the jump had been "no problem. I think it's great to be alive, and it has been for 60 years. There were four other guys in that plane who didn't have the chance to jump and I did."
Source: Stuff 28 January 2003; photo credit: Nelson Mail/Skydive Nelson

Elderly Athlete Wins
by Leigh Catley
Here is proof - you are never too old for athletics.
Les Amey, aged 101, today completed the 1,500 metres at the World Veterans Games in Brisbane in 19 minutes 59 seconds. He was the only competitor in the 100 years and over category - making him the world-record holder because no one his age had every run the race before. Mr Amey only started competing in athletics 3 years ago and he'd never won anything before.
Source: NewsRoom 13th July 2001

World Record Falls to Flying Phil, Aged 100
by Rory Carroll
Johannesburg - A South African pensioner nicknamed Flying Phil broke the record at the weekend for centenarian sprinting. Philip Rabinowitz entered the Guinness Book of World Records by clocking 30.86 seconds over 100 metres at a Cape Town stadium, demolishing the record of 36.19 set by the Austrian Erwin Jaskulski.
"Oh I feel wonderful now, absolutely wonderful," he told reporters. "I don't know how long it is going to be like this. Every time I go, I break my own record. I get younger and younger." He ran a faster time a week earlier but it was not verified because of a faulty timer.
The secret of fitness and longevity, said the man who is also known as Rabinoblitz, was fresh orange juice before breakfast, an apple after each meal, and lots of walking. He walks about four miles daily to his daughter's factory, where he does the accounts.
Source: guardian.co.uk The Guardian Monday 12 July 2004

Canadian, 72, First His Age to Run Sub-Three Hour Marathon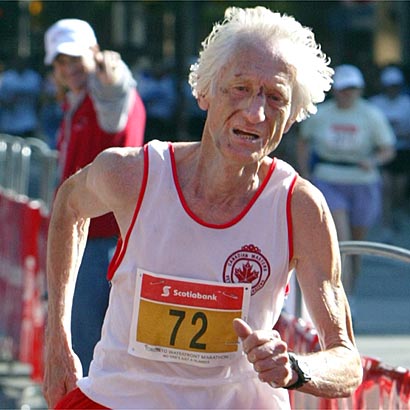 A 72-year-old Canadian man has become the first person over 70 to run a marathon in under three hours. Ed Whitlock finished the Scotiabank Toronto Waterfront Marathon in two hours, 59 minutes and 10 seconds. His participation in the event had been in doubt following a fall while out walking a few days before, reports the Toronto Star. But Mr Whitlock was determined to run the race. He said of his performance: "It's a kind of cheap version of Roger Bannister's four-minute mile. I feel pretty awful right now."
He said he's no intention of quitting athletics. "I hope to keep going. I think old people can do more than old people and young people give them credit for."
Meanwhile, 92-year-old Fauja Singh, from Ilford, became the first 90-plus runner to beat the six-hour mark. He clocked five hours, 40 minutes and 4 seconds. It beat his own record of 6 hours, 11 minutes set in the Flora London marathon in April.
Source: ananova.com Tuesday 30 September 2003

Setting World Records - at 70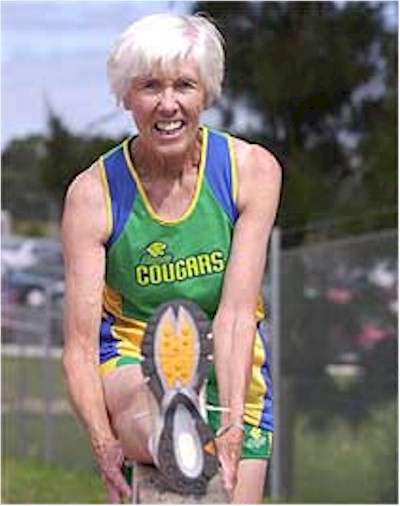 Fast lane: 70-year-old Margaret Peters is setting world records in sprinting.
by Andy Wallace
Margaret Peters insists her two world track and field records at the Trans-Tasman Masters Games are just a tiny cog in the bigger scheme of things. The Murrays Bay resident captured the attention of the media when she set world records in the 70 plus women's 100m and 200m sprints at Sovereign Stadium which hosts the athletics programme. But the Bays Cougars Athletics Club veteran is quick to point out that masters athletes are regularly performing with distinction and deserve to be recognised.
"The world masters and track and field has some wonderful sports people. It's an ideal opportunity for the press to pick up on these things rather than things that aren't really relevant," says Margaret who trains regularly at the Sovereign Stadium and has won medals at world masters games. But this is the first time she's broken any records. Running in the 70+ age group Margaret recorded 31.45 seconds in the 200m and 15.16s in the 100m. She says the conditions were just right on the day but says other factors also helped. "The last few meetings I've been running really good times but you can't have too much wind behind you or in front of you. I've also got friends younger than I am and I have to run down in the age groups so they pull me up which gives me good times." She says the weather, superb training facilities at the Millennium Centre, a supportive partner, and remaining fit, all bade well for success.
"Every little thing helps and it was just the right day," says Margaret who hopes to compete at the world masters track and field games in Spain next year. Margaret says more people should compete at masters level even it means it's just for fitness. Without them there wouldn't be events such as the Trans Tasman Masters Games. "We rely on all the others taking part or there wouldn't be anything. It really needs everybody to come out and try and do their best and take an interest in something. It doesn't matter what it is, just do it."
Source: stuff.co.nz 25 March 2004 photo credit Mike Knott/North Shore Times

Life's a Breeze for 85-Year-Old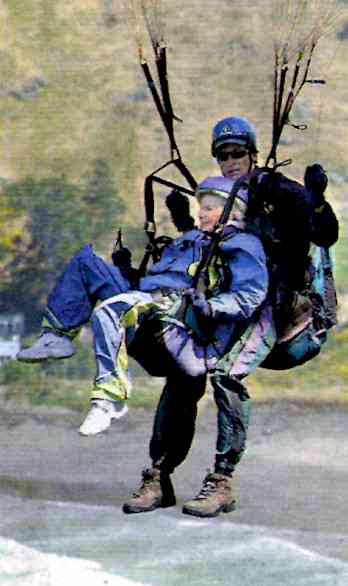 So nice: Katie Leggoe airborne with paraglider Grey Hamilton
Sailing high above Scarborough in Christchurch is a breeze, says 85-year-old Katie Leggoe. Watched by her admiring husband, Dick, Mrs Leggoe took to the sky in a tandem paraglider from Whitewash Head in the city, adding to a long list of outdoor interests.
Waving to onlookers, she was airborne for about 10 minutes, and landed with a cheery smile. "That was wonderful," she said. She was puzzled by the attention her trip caused and said she was not worried about heights on her maiden flight. "I saw people doing it in Queenstown and it looked so nice. I told myself I would like to do that - and here I am."
An avid tramper, cyclist, and gardener, Mrs Leggoe still has the adventurous spirit which saw her scale Mount Cook in 1942. "In those days I didn't consider it was very difficult. I was young then."
These days it takes a little more effort to keep fit, but she shows no signs of slowing down. Fresh from five days tramping in Tongariro National Park, she plans to spend plenty of time outdoors these holidays, around Canterbury and further afield. - NZPA
Source: The Evening Post Thursday 14 December 2000 photo credit Christchurch Press

Paraglider, 91, Takes to the Skies
A 91-year-old man has become Britain's oldest paraglider. Reg Rose-Innes flew 800ft above Devil's Dyke, West Sussex, for a 20-minute tandem flight. Reg, a retired ecologist, of Beddingham, East Sussex, told the Mirror: "It was marvelous being in the air."
Son Crispin, 57, said: "I thought it would be a wonderful opportunity for my father to have a go before he bites the bullet."
Source: ananova.com 18 December 2006

Augusta Pate, 86, Blithe Karate Spirit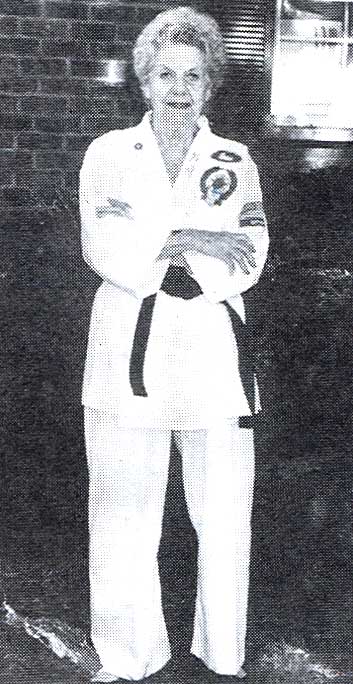 Augusta Pate was proud of her black belt in karate
by Rudy Larini
A decade ago, septuagenarian Augusta "Gussie" Pate was in downtown Paterson when she walked back to where she had parked and saw about 8 youths leaning all over her car. "She walked up to those kids and she said, 'Hey, you better get off that car if you know what's good for you. I have a black belt in karate!'" said her daughter, Cheryl Chapman of Millburn. Funny thing was, Mrs Pate wasn't kidding. She really did have a black belt. She earned it when she was 70 years old at a Midland Park academy where she was known as the "Karate Grandma." Funeral services for Mrs Pate, who died Monday at her Springfield home, were held yesterday at the Bradley, Smith & Smith Funeral Home in Springfield. She was 86.
Mrs Pate was a registered nurse and registered dietician at the former Fair Lawn Hospital in Fair Lawn before retiring years ago. She also had worked as a visiting nurse in the Hawthome area. Chapman said her mother, who was barely 5 feet tall and weighed only 110 pounds, decided to pursue karate at an advanced age after she was mugged while visiting a Social Security office in Paterson. She was laid up for more than a week. "The man came over and picked her up, took her purse and threw her into the street," Chapman said. "Her whole body was badly bruised. 'When my mom got better, she said, 'You know what? No one is going to do that to me again. I'm going to learn self-defense. I'm going to take up karate.'" She was turned down by several martial arts schools because of her age, but finally found one in Midland Park that would take her as a student if she signed a liability waiver. "She started out gradually, just learned basic self-defense and she enjoyed it because it gave her something to do," her daughter said, explaining her mother advanced through the various degrees of belts before earning a black belt.
Her instructor, Master Kiln, remembered her as a feisty, strongwilled woman. "She was a nice lady. She had a very positive energy," he said. "All the while she smile, but she was very tough." Chapman said Mrs Pate's friends were fascinated by her pursuit of martial arts as a senior citizen. "They loved it. They would say, 'Wow! I wish I could do that!' She got a lot of praise for that," Chapman said. "I think my mom did things other people wished they could do, but didn't have the courage," she added. "My mother was a free spirit. She did things to please herself." She got the first of her two tattoos, a butterfly on her right wrist, at age 50 after she and her husband, Fred, divorced. The second, "a big green dragon on her right thigh," she got in her early 80s to commemorate her karate accomplishments, Chapman said. "She loved dragons. It had to do with her black belt."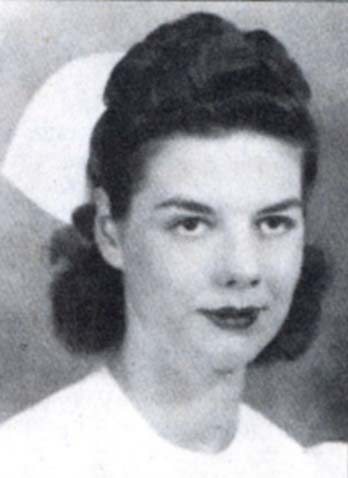 Pate in 1938, the year that she became a nurse
Mrs Pate also was an avid roller skater with her ex-husband, took I her first motorcycle ride at age 83 and loved dressing in flashy outfits, like big hoop earnings and blouses with ruffles, her daughter said. "She was a 'bling-bling' before there was the word 'bling-bling,''' Chapman said. And, oh yes, Mrs Pate also was an champion ballroom dancer who loved to tango. "I must have 15 trophies in her apartment that I don't know what to do with," said Chapman, adding she dressed Mrs Pate in her dancing shoes for the funeral, "hoping she'd meet Fred Astaire when she got to heaven." Mrs Pate was a 1938 graduate of the Bellevue Hospital Nursing Program in New York City and also a graduate of the New York Institute of Dietetics. Born in St Louis, she lived in Brooklyn and Hawthome before moving to Springfield in 1998.
Surviving in addition to Chapman are ex-husband, Fred, in Jacksonville, Florida, and a grandson, Gary, in Hillsborough.
Source: The Star-Ledger (New Jersey) 21 April 2005

Cat Fight Takes a Wild Turn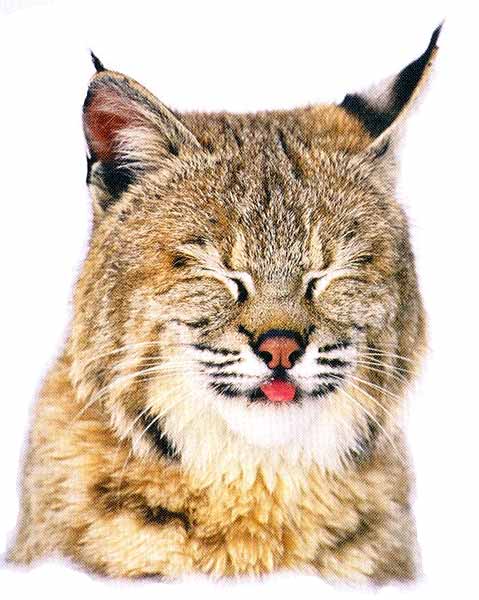 Bobcat (Felis rufus) named for their short, bobbed tail, they are medium-sized cats,
slightly smaller and similar in appearance to their cousin, the lynx. Photo by Theo Allofs
by Betty Jespersen
Wyman Township - A hungry bobcat that thought a frail, older house cat sunning himself on a porch might make an easy meal didn't reckon with its 90-year-old owner. Mildred Luce, who raised 8 children and was used to being self-sufficient in this rural township 21 miles north of Kingfield, didn't think twice when she looked outside and saw her beloved cat's head locked inside the wildcat's mouth.
"I heard a scuffling outside and when I looked out, I saw the bobcat lying on its side facing Smudge with her head in its mouth," Luce said from her Route 27 home. Acting on instinct, Luce rushed out, grabbed a handy aluminium snow shovel and pushed it down on the bobcat's neck. The wild cat held on. "Then I took hold of its head with my hand and pulled on its tail and Smudge popped out," she recalled. What happened in the next few moments was a blur. Twenty-year-old Smudge, once freed from her captor's maw, high tailed it through the open door followed by the bobcat. Once inside, the wild cat became subdued and was more bewildered than aggressive, Luce said. He wandered from room to room and eventually walked into the bathroom. Neighbour Mark Rollins, whom Luce called for help, secured the door until Maine Game Warden Reggie Hammond arrived. The creature was snared while hiding behind the shower curtain.
"I had no fear of it - I was just interested in saving Smudge," Luce said. The skirmish upset her even more when she realised her 5-year-old house cat, Foxy, had been mauled the night before. She said she became worried when she could not find him. Mark Rollins' wife, Cindy, said she came over and they started hunting for him, finally locating him by faint mewing coming from the cellar. "I kept calling him and when he came out crawling, we saw he had been chewed up pretty bad and was in a lot of pain," she said. "I was very nervous about Mildred. This was all so traumatic for her to see cats that had been her companions for so long get so hurt." Foxy, who was in shock, had deep puncture wounds on his face and a crushed front leg. He died two days later while in surgery at the Animal Medical Clinic in Skowhegan, said veterinarian Dr Kjerstin Winn. She has also made a house call to Luce's to check on Smudge's recovery and said she is on the mend.
"I am getting better," Luce said. "I am eating again. I was so upset, it just broke my heart. My daughter gave Foxy to me when he was a kitten and he was a true friend. Any animal you have, you have to take care of, and I feel I had let him down."
Regional wildlife biologist Chuck Hulsey said the young bobcat likely was emboldened by hunger since the species does not deal well with the kind of deep snow that fell this winter. "They will start to starve, especially the year-old juveniles. They don't have the experience to survive," he said. Two or three are caught in this region each winter, rehabilitated, and then released in the spring. If they are too emaciated, they are euthanised. The bobcat snared in Wyman Township was killed so it could be tested for rabies, and the results were negative. Hulsey said bobcats weigh 20 to 40 pounds and Maine is on the northernmost edge of their range that extends from southern Canada to central Mexico. Their diet usually consists of mice, small birds and snowshoe hares.
A related species, the lynx, is taller and heavier and with its long legs and huge feet, can thrive in the tough winters in northern United States and Canada. Hulsey said there have been documented sightings of lynx in this area. "The difference between a bobcat and a lynx in winter is like a man walking in snow without snowshoes." he said.
Source: morningsentinel.mainetoday.com Tuesday, 19 April 2005 © 2005 Blethen Maine Newspapers Incorporated
Bobcat

Canadian Lynx

Body Length (mm) -720-980
Weight (kg) - 11-14 (male)
Litter Size - 1-2 average
Life Span - believed 12-13 years in the wild but mid-20s in captivity

The bobcat like all lynx has a great liking for hare and rabbit, which form a major part of the diet. However, unlike the Canadan lynx, which almost exclusively hunts the snowshoe hare, the bobcat will commonly switch prey species when its preferred source of food is unavailable. Males will hunt larger prey such as deer in the winter months when other prey is scarce. Bobcats also prey on other small mammals, such as squirrels and chipmunk, rodents and birds. Generally they hunt both by night and day, although there is evidence to suggest that most hunting takes place at dawn and dusk, corresponding to peak periods of activity of the hare and rabbit, their main prey species. Bobcat tend to be more diurnal during the winter months.

Body Length (mm) -900-1100
Weight (kg) - 9-18 (male)
Litter Size - 2-4 average
Life Span - 15 years

The lynx is a diurnal hunter and in common with most wild cats, generally stalks prey alone, although group hunting and ambushing has been observed. Although not a timid hunter the lynx will rarely contest its prey if confronted by other carnivores and will leave its prey uneaten. Its prey varies from small rodents through to deer, with the snowshoe hare being by far its favoured prey. In certain areas the lynx is so closely tied to the snowshoe that its population has been seen to rise and fall with that of the hare, even though other food sources may be abundant. In the autumn and winter months the lynx will often scavenge on the carcasses of larger animal such as caribou and deer who have perished with the onset of winter or have been shot during the hunting season. The canadian lynx itself is extensively hunted throughout much of its range and is listed in CITES Appendix 2.
Sources: dspace.dial.pipex.com/bobcat, dspace.dial.pipex.com/lynx

Sheila, 105, Will Keep on Driving

Britain's oldest driver has vowed to keep driving at the age of 105, despite losing her 71-year no-claims bonus after a recent bump. Sheila Thomson drove to church yesterday on a 15-mile round trip she has repeated every Sunday for six decades. Mrs Thomson is believed to have taken the title of oldest driver from Charlie Howarth of West Yorkshire, who renewed his license in March at the age of 101, reports the Daily Telegraph.
The widow, from Broughty Ferry, Dundee, said: "I never passed my test. We didn't have them in those days. When I turned 70, I signed a form saying I was still able and driving. I've heard nothing since. I hope they don't take my license away. That would be terrible. I would have to give up church and a lot of things."
Mrs Thomson also drives to the shops every day and picks up an 80-year-old friend on the way to church.
Source: ananova.com 14 May 2007

Unfortunately, the ability to drive safely is one that can disappear precipitously in the elderly. A knee can lock on the accelerator, for instance. I'm glad that Ms Thomson is still alert at 105, but I question the wisdom of having her behind the wheel. According to the National Highway Traffic Safety Administration, the number of fatal crashes in which older drivers are involved is increasing. Elderly drivers don't deal as well as younger ones with complex traffic situations. Per mile driven, drivers 75 years and older have higher rates of fatal motor vehicle crashes than drivers in other age groups except teenagers. Per licensed driver, fatal crash rates rise sharply at age 70 and older. At the very least elder drivers should avoid driving at night and should minimise the number of left-hand turns they have to make. This problem will only get worse as baby-boomers age...
See also:
| | |
| --- | --- |
| | Warning Signs (further in this section) - When to begin to limit your driving (you need not exhibit all the signs)... |

For articles related to ageing, including feats that can be accomplished, and a non-spiritual look at what happens after death - funerals, jerky, popsicles, fertiliser, ashes, orbit or dust - clicking the "Up" button below takes you to the Index page for this Older and Under section.