Up in Smoke
Slow Burn
Tongariro a is compound volcano, made of several coalescing volcanic cones.
Most of the volcanic center is made of four andesite massifs: Kakaramea, Pihanga, Tongariro, and Ruapehu.
Maungkatote and Hauhungatahi are two smaller eroded eruptive centres.
Pukeonake is made of a satellite cone and associated flows. Ohakune consists of four craters.
The volcanic center is surrounded by an extensive ring plain made of stream, debris flow, lahar, lava, and ashflow deposits.
When we moved to New Zealand, one of the first places we visited was the lovely Chateau Resort Hotel in the Tongariro National Park. It was picturesque and peaceful. I bought a postcard as a souvenir.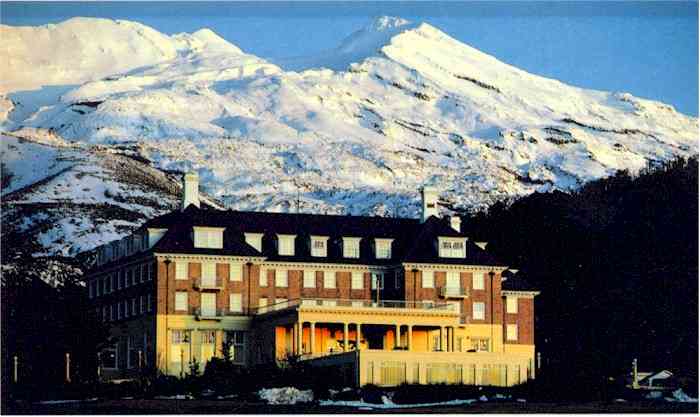 Source: photo credit Bartley Pacific Enterprises Ltd P O Box 36 Albany New Zealand

Not too long after that, I saw another picture of the Chateau - a very different picture - not so peaceful, but still picturesque.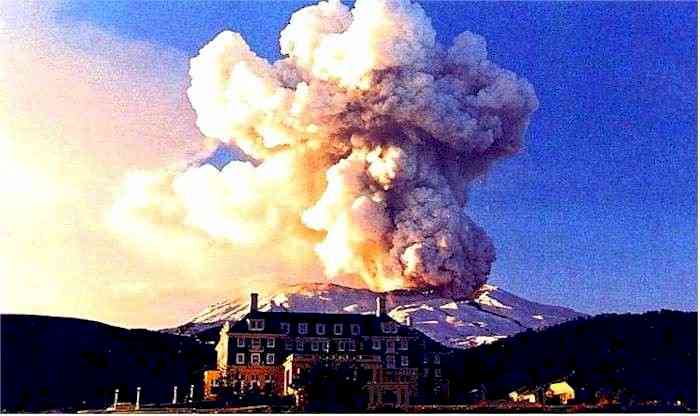 Beyond the Grand Chateau, smoke, ash and stream belches from the crater of Mount Ruapehu during one of its infrequent eruptions.
Source: The Landscape Collection © Sceniz Marketing

Light My Fire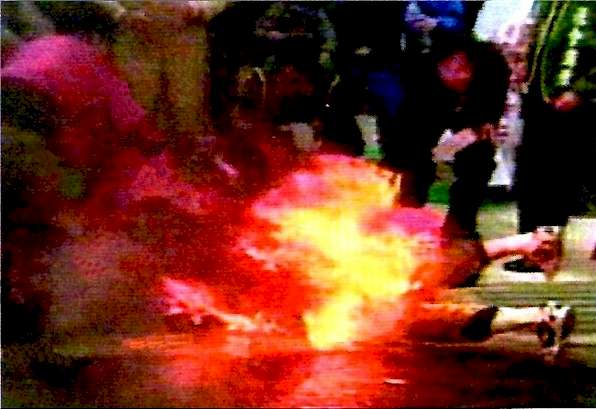 Protester Sets Himself on Fire
Taipei, Taiwan - A Taiwan activist set himself on fire to protest construction of the island's fourth nuclear power plant today, a day before Parliament is scheduled to reopen debate on the controversial project. Cable television pictures showed Huang Ting-fang, 53, engulfed in flames in front of Taipei's parliamentary building as other demonstrators poured bottled water on him to put out the fire.
"We smelled gasoline and saw flames coming from him and it was not until he started shouting 'Save Taiwan!' that we realised it was a self-immolation," said one member of Taiwan's Green Party, which was holding a separate sit-in protest nearby. Doctors said he suffered mostly surface burns and was expected to survive.
The incident illustrates the passions that surround the nuclear plant project which was cancelled by the new Democratic Progressive Party-led administration when it took power after the March 2000 presidential election. The decision enraged the opposition Nationalist, People First and New Parties, which said the Cabinet's move was unconstitutional as it unilaterally reversed a decision made by lawmakers under the previous Nationalist administration. The business community mostly favours building the nuclear plant, fearing electricity shortages in the future, but environmentalists say Taiwan cannot process nuclear waste or deal with nuclear accidents.
Taiwan's Council of Grand Justices, which interprets the Constitution, averted a political crisis this month when it stopped short of calling the cancellation unconstitutional. However, it said in a ruling that Premier Chang Chun-hsiung, head of the Cabinet, violated proper procedure by failing to report the decision to Parliament. Lawmakers are scheduled to listen to Premier Chang's report tomorrow on the Cabinet's move to scrap the $US5.5 billion project, that is already 1/3 complete, and vote on the issue on Wednesday. - Reuters
Source: The Evening Post Tuesday 30 January 2001 Photo credit: Reuters

It's difficult for me to believe that anyone could live through that.

On a Sunny Beach, a Man Is Struck Dead by Lightning
by Jonathan Casiano
A lightning bolt from a distant storm struck and killed a young beachgoer as he was tossing a football with a friend under a clear sky yesterday at Island Beach State Park. Stephen McCarthy, 22, of East Windsor was enjoying the sunny Saturday at the beach with his friend, Daryl Kobesky of Princeton, when the lightning struck him without warning. A thunderstorm sitting a couple of miles out to sea apparently had sent a single bolt to the beach at the Ocean County park, killing McCarthy almost instantly, officials said.
Lifeguards and emergency medical technicians there were unable to get more than a faint pulse from McCarthy, said lifeguard captain Jim Handschuch. McCarthy was pronounced dead at 2:15pm en route to Community Hospital in Toms River.
The accident sent shudders up and down the 10-mile beach as stunned lifeguards and beach administrators struggled to find an explanation for a tragedy they said there was no way to prevent. "I'm a science teacher and I can't explain it," said Handschuch, who teaches biology and earth science at Lacey Township High School. "There was nothing around us." Park Superintendent William Vibbert happened to be standing less than 30 yards from McCarthy when the lightning struck. Like Handschuch, he said the bolt came out of nowhere. "Whenever we have lightning, we immediately clear the bathing area and we give advisories in the lower area that is not guarded," Vibbert said. "We train lifeguards to handle these situations, we train our EMTs, we have a defibrillator in our emergency response vehicle - our whole program is designed to protect the safety of visitors. For us to lose a life despite all that, it's very unfortunate."
Meteorologist Dean Iovino at the National Weather Service office in Mount Holly said the lightning came from a thunderstorm passing offshore. McCarthy's death was "a rare event, to say the least," he said, and agreed there was nothing McCarthy or park officials could have done to prevent it. "It was so hazy at that time that the storm itself wasn't visible and the rain stayed off of the coast," said Iovino. "If you see a thunderstorm approaching you should try to get indoors," he added, "but this was one of those rare cases when the storm wasn't seen approaching and caught everyone off guard."
Park personnel say there was not a cloud in the sky at the time. Bathers flocked to the supervised swimming area to escape the 94° heat, while other visitors enjoyed the park's more rustic natural beaches. Seconds before the lightning struck, Vibbert said, he walked past McCarthy and Kobesky. The pair had just come out of the water in the park's unsupervised south area and were tossing a football back and forth from a few feet apart. "All of a sudden an unbelievable noise sounded. It was like a bomb went off. I was stunned by it, I was so close to it." Vibbert and an off-duty EMT who also happened to be walking by immediately rushed to the unconscious man on the ground and administered CPR.
Burns indicated that the lightning had struck the top of McCarthy's head and exited through his left hip. Though the park's emergency-response unit was there within minutes, and an ambulance was not far behind, McCarthy was never revived. Kobesky suffered minor injuries and was treated and released from Community Hospital.
Lightning continued to strike sporadically for the rest of the afternoon at Island Beach State Park, and the swimming area remained closed for the day. "People think that just because the sun's overhead and the cloud's just a little ways away, you're safe," said Handschuch. "Who would expect you go to beach and get hit by lightning? I definitely gained a new respect for it today."
Source: The Star-Ledger (Morris County New Jersey) 1 July 2001

In the Tuesday 14 August 2001 Star-Ledger (Morris County, New Jersey edition) I read where 14 New Jerseyans had been struck by lightning in the past 3 days, including one strike that killed a man on a crabbing trip in Cumberland County. This was due to "an unusual number of volatile storms..."

Lightning Kills Man beneath Cloudless Sky
by Tere Figueras Negrete and Luisa Yanez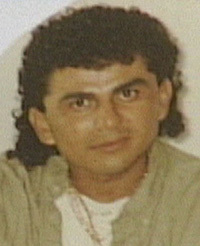 A Dade landscaper died after being struck by an unusual type of lightning that's stronger, hotter, lasts longer and strikes from clear skies. With no rain or even clouds to warn him of the danger, death came literally out of the blue to a self-employed landscaper. The killer was a powerful bolt of lightning that cracked through perfectly clear skies. David Canales, 41, of West Miami-Dade, was on the job at a Pinecrest home when the bolt hit. It first seared a tree, then traveled and struck Canales, standing nearby. Experts said Canales was killed by a weather phenomenon fittingly called a "bolt from the blue" or "dry lightning" because it falls from clear, blue skies. He was pronounced dead at South Miami Hospital.
Canales is the latest victim of one of Florida's least enviable honours: It's the country's lightning capital. Five of the 47 people killed by lightning across the country last year were in Florida. Dan Dixon, a meteorologist with the National Weather Service in Miami, said that when Canales was hit, a typical afternoon storm was forming but nowhere near the area. Weather data showed that lightning activity picked up north of Pinecrest shortly before 1pm as a storm gathered momentum and swept through Coral Gables and then downtown. "Most lightning will come from the base of a thunderstorm, inside that rain-shaft area," Dixon explained. "But occasionally, what we call a bolt from the blue comes out of a thunderstorm still several miles away." The fair-weather bolts pack a bigger, deadlier punch and form differently. Most lightning bolts carry a negative charge, but "bolts from the blue" have a positive charge, carry as much as 10 times the current, are hotter and last longer. The bolts normally travel horizontally away from the storm and reach farther than typical lightning, then curve to the ground. This bolt struck the front yard of a home at 10500 SW 62nd Ave.
"My wife said the sky was blue, but the lightning bolt was the most horrible sound she had heard in her life," said Clemente Vazquez-Bello, owner of the home where Canales and two workers had come to do landscaping. Startled by the violent sound, Margarita Vazquez-Bello ran to the backyard. The men were not there. Canales' workers were knocking on the front door, seeking help. She dialed 911. Officers with the Village of Pinecrest and Miami-Dade Fire-Rescue arrived at the home. But Canales was in grave condition when transported, said rescue spokesman Lieutenant Elkin Sierra. The Vazquez-Bellos rushed to South Miami Hospital, where Canales was pronounced dead. Canales' wife, also at the hospital, could not be reached for comment.
Vazquez-Bello said Canales was "a wonderful human being" and a dependable hard worker. "We feel terrible about this," said Vazquez-Bello, a Miami attorney.
Dixon said protecting yourself from such unexpected lightning is difficult. "They are very unpredictable and very dangerous. We urge people to stay indoors even if you hear thunder only faintly in the distance," Dixon said. "If you're close enough to hear thunder, you're close enough to be struck by lightning."
Earlier this month, a worker was hospitalised after being struck at a construction site in Miami. Nine people, including 3 children, were forced out of their Plantation home after a lightning strike caused a fire. There has been at least one fatality in South Florida this year: a person on a roof in Miramar was killed by lightning 19 May, Dixon said. It's not the first time in South Florida "bolts from the blue" have proven deadly. In August 1988, a Norwegian couple vacationing in South Florida were struck while standing on a Fort Lauderdale beach. Witnesses said the sky was cloudless.
Miami Herald staff writer Penny McCrea and researcher Monika Z Leal contributed to this report.
Source: miamiherald.com 22 June 2007 courtesy WFORCBS4

Religious Book Seller Struck By Lightning
Hialeah - A man making a trip from Puerto Rico to South Florida to raise money for his religious education remains hospitalised Monday after he was struck down by a bolt of lightning which flew from clear blue sky on Sunday. Hailu Kidane Marian was working with members of his religious group, selling religious materials door-to-door in a Northwest Miami-Dade neighbourhood, when the bolt from the blue struck him down.
"I heard a boom, and I looked and the guy jumped back, and he just laid there, stiff," said witness Maria Martinez. Paramedics say Marian was not breathing and his heart was not beating when they arrived, but they were able to revive him and rushed him to Jackson Memorial hospital, where he was in critical condition Sunday night. Members of his religious group waited outside the hospital throughout the night for word of his condition. "He's unconscious, he's in a coma," said Francisco Perez, leader of the Puerto Rico-based group. "It's difficult what happened, you know, but what can we do? Things happen in life, but we still believe in God."
This is the second incident in as many months of someone being struck down by lightning from a clear sky in South Florida. Last month David Canales, a gardener who worked in the Pinecrest area, was killed when lightning apparently struck him from a rainless sky. Two co-workers standing nearby were unhurt. CBS4 Meteorologist Jeff Berardelli said "dry lightning", which can strike even when the sky is clear, can be very dangerous because victims are not expecting it and don't prepare as they might with a storm threatening.
Measurement of lightning strikes in the area Sunday showed only a few bolts compared to the last few days, making Marian especially unlucky to be struck by one of them. Nobody else was injured when the bolt flew from the sky.
Source: cbs4.com © 2007 CBS Broadcasting Incorporated, all rights reserved

Man Beats Unexpected Bolt
by Ainsley Thomson
Paul Mortimer was running up his driveway to avoid the heavy rain on Saturday morning when he heard a deafening bang followed by a bright flash that seemed to shoot through him. At first Mr Mortimer, 21, did not know what had happened. Then he felt a warm sensation in his back and realised he had been struck by lightning, which had burned a hole in his shirt.
"I thought I was on fire, so I dropped and rolled into a water-filled culvert next to the driveway."
Mr Mortimer then stumbled into the Birkdale house where he lives with his parents. His mother, Pauline Mortimer, said: "We heard this noise at the door and the dog was going mad. At first we thought Paul was drunk. He was going, 'I can't see, I can't see. I've been burned'. Then he fell on the floor in the kitchen. That's when we saw his shirt. We called an ambulance straight away."
Mr Mortimer was taken to North Shore Hospital, where he suffered heart complications, from which he recovered. His only other injuries were a graze on his back where the lightning hit and some damage to the retina of his left eye. It is thought the lightning entered his body through his back and exited through his eye. Nursing staff at North Shore Hospital were amazed he had survived the strike. "What saved his life, we reckon, were the rubber-soled shoes he had on," his mother said.
Mr Mortimer, a chemical technician, is now recovering at home. When he looks at the hole in his shirt he realises how lucky he is. Tony Smith, chief medical adviser for St John Ambulance northern region, said being struck by lightning was rare and usually fatal. In December 1984, a Te Awamutu man was struck by lightning and died, and in December 1986 lightning struck a man and his horse in Taihape, killing both. Mr Mortimer's mother said he was planning to write to the manufacturer of his shoes to compliment them on their product, and intended to frame the remains of the shirt he had been wearing.
Source: nzherald.co.nz 8 July 2002

Lightning Strike Leaves Eye Damage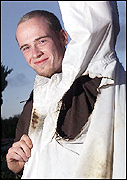 Paul Mortimer shows off his lightning-struck shirt.
A Birkdale man struck by lightning is being treated for retina damage to his left eye. It is thought the lightning entered 21-year-old Paul Mortimer's body through his back and exited through his eye. Doctors have told him he has 3% damage to the eye. On Sunday, Mr Mortimer suffered heart palpitations and spent the night in hospital. He is now home but has been told lightning also damaged chest muscles.
Source: nzherald.co.nz 9 July 2002 © New Zealand Herald photo credit Glenn Jeffrey

Don't Drink and Climb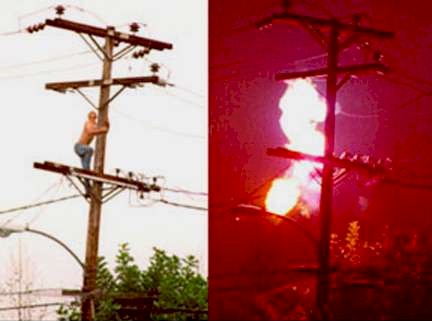 Source: The web. I presume the photo on the right doesn't actually depict the immolation of the man on the left. (Otherwise, I wouldn't have posted it.)

For more on the unusual: events, abilities, means of self-expression, houses, conditions, people, luck, narrow escapes, resemblances, facts, diversions, heroism and more - click the "Up" button below to take you to the Index for this Odds and Oddities section.