California Becomes a Giant Movie Set
The "Disguise" of California
I love California, I practically grew up in Phoenix.
- Dan Quayle

by Dr Dennis Casey
[Excerpt]
In February 1942, a Japanese submarine skulked just outside San Francisco Bay. A few nights later another Japanese submarine surfaced off Santa Barbara and fired a few shells at an oil storage facility. One shell exploded on an ocean pier.
War had come to California.
In the atmosphere of panic and worry (with stories of Japanese secret agents behind every bush and tree), the War Department ordered Lt Gen John L De Witt, head of Western Defense Command, to protect vital installations along the Pacific Coast - to disguise California.
Colonel John F Ohmer was stationed at March Field, 60 miles east of Los Angeles. He was a pioneer in camouflage techniques. In Britain in 1940, carefully-made and positioned camouflage caused the Luftwaffe to waste thousands of tons of bombs on empty fields. Months prior to Pearl Harbor, Colonel Ohmer campaigned for protective cover of Wheeler Field, a major air base near Pearl Harbor. His plan was rejected for being too costly, $56,210.
Weeks later Wheeler and its aircraft were destroyed,
On 7 December 1940, Goodyear Tire and Rubber agreed to manufacture rubber decoy aircraft similar to those used by the British for $1,000 a copy. But the War Department again turned down Ohmer's plans. He had hoped to scatter the dummy planes around the American air bases in Hawaii. But now, Ohmer was charged with disguising California.
Movie studios in Hollywood, Metro-Goldwyn-Mayer, Disney Studios, 20th Century Fox, Paramount, Universal Pictures and others accepted the challenge and offered scenic designers, painters, art directors, landscape artists, animators, carpenters, lighting experts and prop men. While not experienced in military affairs, this legion of experts from the movies would make Colonel Ohmer's assignment considerably easier and entirely possible.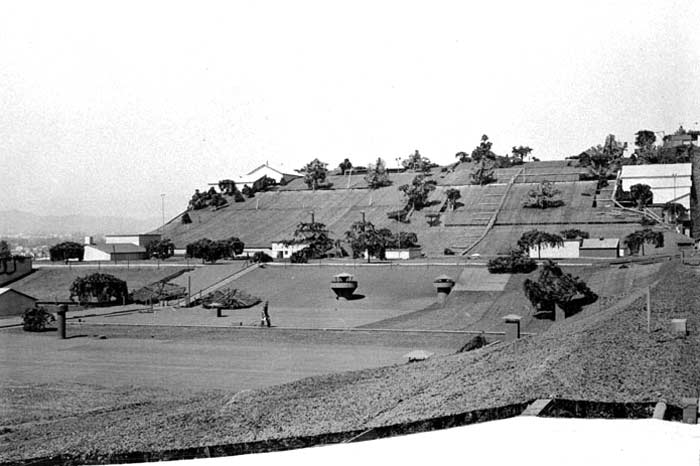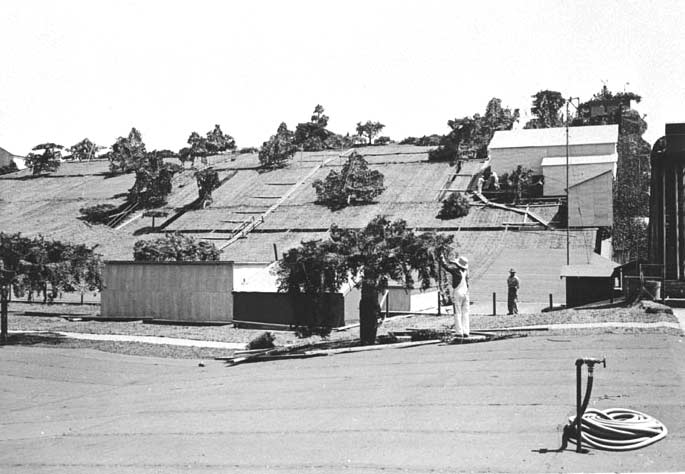 The bottom photo is a close-up of the one above it (compare the white building on the right-hand side).
In the bottom photo men can be seen "working" - actually checking how the feather trees are hooding up.
In the early weeks of 1942, March Field came alive. You could run into a small farm being created complete with animals, a barn, a silo and other buildings. Pastoral settings used frames of lumber and large spreads of canvas. The whole thing achieved near reality when a neighbouring farmer grazed his cows near the phony buildings.
In other sections of March Field, scattered decoy aircraft made of canvas scraps, ration boxes, and burlap on chicken wire as well as flattened tin cans dominated the landscape. None of these aircraft looked real up close but looked great from a distance. Fake runways were made by burning grassy strips. On high, they looked like the real thing. In all 34 air bases were camouflaged to include the planting of fake foliage and structural cover.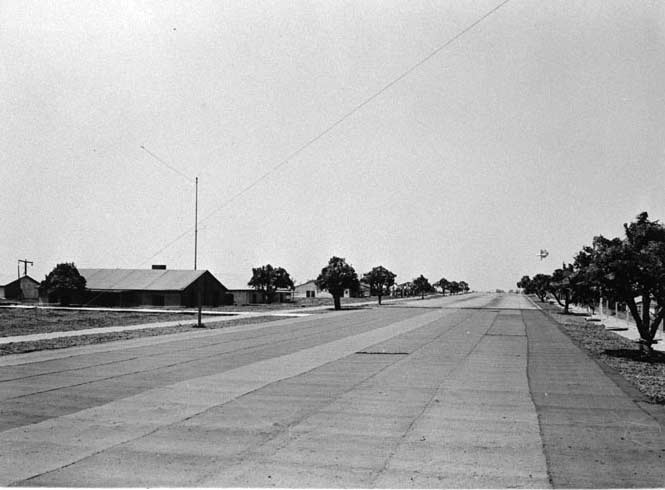 Concurrently, Ohmer concealed key factories and assembly plants that may be targets, including Douglas Aircraft. In a short period of time the entire area of the factory was camouflaged. The Lockheed-Vega aircraft plant in Burbank was fully hidden beneath a complete suburb replete with rubber automobiles and peaceful rural neighborhood scenes painted on canvas. Hundreds of fake trees and shrubs were positioned to give the entire area a 3-dimensional appearance. The trees and shrubs were created from chicken wire treated with adhesive, then covered with chicken feathers for leaves, then painted various shades of green (with spots of brown, even). Air ducts were disguised as fire hydrants.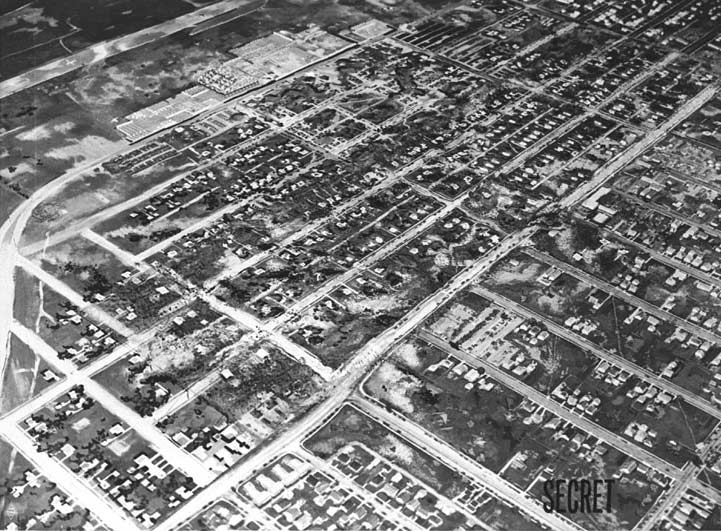 This scene couldn't fool the sensors of today. Douglas Aircraft is the lower left quadrant of the scene.
Maintaining the illusion of a neighbourhood required signs of life and activity. Workers emerged to relocate automobiles, and took walks on hidden catwalks. Some took washing down from fake clotheslines only to replace it later at scheduled times. Parked automobiles were moved to indicate drivers were using their cars daily and returning home from work.
Ohmer's "suburb" brought requests for other camouflage projects. In Seattle, Boeing Aircraft covered nearly 26 acres. It became covered by a complete town with municipal buildings, a park, schools and homes.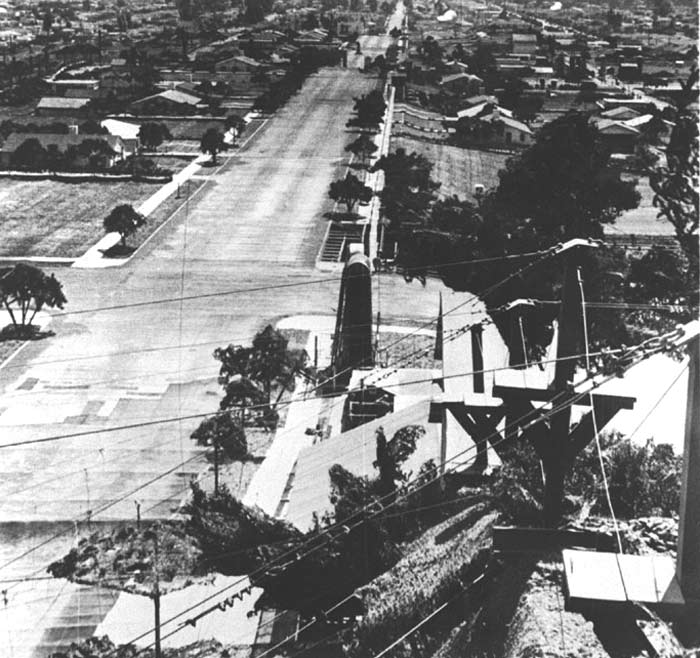 Fake street
The disguise of California ceased to be critical when the US Navy dealt a smashing defeat to a Japanese carrier task force at Midway Island. The threat of a serious attack against the West Coast diminished, then vanished.
Source: www.findarticles.com © 2004 US Air Intelligence Agency Lackland AFB, Texas

One thing I find interesting is that the above article makes the idea to disguise the west coast to be almost solely Colonel Ohmer's. Yet the article on the previous page made the idea seem to be Donald Douglas Sr, with others copying him.

Electronic Encyclopædia of Civil Defense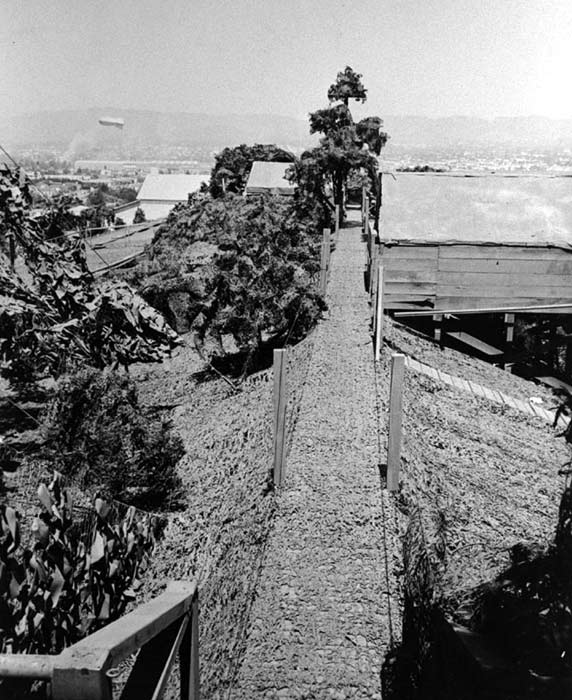 Douglas Aircraft underneath
Douglas Aircraft Plant: United States. 1942. An extensive passive defense effort was initiated in April 1942 to protect the Douglas Aircraft factory in Santa Monica, California, through the application of one of the most extensive camouflage efforts ever undertaken. Volunteers from various Hollywood film studios donated their own time to create a decoy plant several hundred yards away from the actual plant in an open field and to disguise the actual plant as a housing area. Revetments provided protection for aircraft parking, and barrage balloons ringed both the real and decoy plants. However, the main effort used careful painting to transform the runway into an urban residential area and the installation of a 3-dimensional framework over the plant buildings complete with plywood houses and trees and bushes constructed of chicken wire and cloth to create a false hill. The camouflage project was essentially completed by October 1942. Although the project was intended to protect the plant from Japanese photoreconnaissance, neither the Japanese Navy nor Army had the capability to undertake such a mission. The level of detail achieved was only possible in a southern California environment; heavy rain or snow would have caused the components to fail, giving away the location.

The car parking area.
taken from Stanley, Roy M II, To Fool A Glass Eye: Camouflage versus Photoreconnaissance in World War II, Washington, DC, Smithsonian Institution Press, 1998.
Source: www.richmond.edu
See also:

To view other articles related to flying including history, unusual flying machines, hot air balloons, skydiving, gliding, problems, airports, turbulence, pilots, crashes, the Paris Air Show, the future, blimps, space travel, solar sails and more, clicking the "Up" button below takes you to the Table of Contents for this section on Flight.