Lucy in the Sky with...What?
Six of Diamonds
The distance between the pitcher's rubber and home plate on a regulation baseball diamond is 60 feet 6 inches.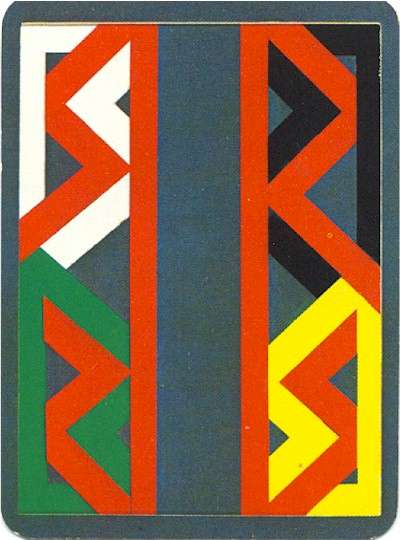 Artist: Robyn Denny, who has/had works displayed in Great Britain
Belfast - Ulster Museum
Edinburgh - National Gallery of Scotland
Kingston upon Hull - Ferens Art Gallery
Liverpool - Walker Art Gallery
London -

| | |
| --- | --- |
| | Arts Council of Great Britain |
| | British Council |
| | Calouste Gulbenkian Foundation |
| | Contemporary Art Society |
| | Department of the Environment |
| | Tate Gallery |
| | Victoria and Albert Museum |
and in the United States
| | |
| --- | --- |
| | Minneapolis - Walker Art Center |
| | New York City - Museum of Modern Art |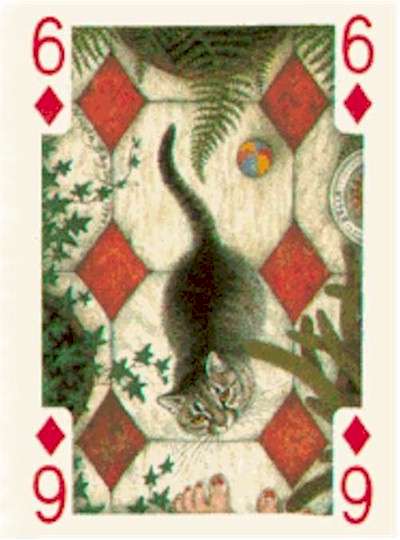 Artist: Nicola Bayley
Art for the Earth Playing Cards, published in 1995 by Friends of the Earth and Andrew Jones Art, is a notable deck for many reasons: it is a transformation deck with a predominantly rainforest theme and each card in it was designed by a different artist. Royalties from sales of the deck go to Friends of the Earth, and are used in their efforts to "protect and sustain the world's fast disappearing tropical rainforests." Also of note is the fact that the deck is believed to be the first deck in the world to be printed on 100% recycled card.
Source: The Bob Lancaster Gallery of Unusual Playing Cards!, an unusual site, worth a visit...

Clicking the "Up" button below will take you to the Table of Contents for this section where you can view thumbnails of this entire deck.